Gold Prices Near 6-Week Dollar Low, 15-Week GBP High on US vs UK GDP and Inflation
Friday, 4/27/2018 14:04
GOLD PRICES fell back Friday after the leaders of North and South Korea pledged to remove nuclear weapons from the peninsula, and new US data showed strong GDP growth but slower inflation.
Slowing from end-2017's reading of 2.9%, that real pace of growth in US gross domestic product beat analyst forecasts at 2.0% thanks to a drop in the rate of inflation, which slowed from 2.3% to 2.0% per year.
Kim Jong-un meantime became the
first leader of North Korea to visit the South
, meeting Moon Jae-in to discuss making the two countries' armistice of 1953 into a formal peace treaty, reducing nuclear weapons to zero, and re-uniting families divided by the border.
The drop in gold versus the Dollar put the metal on track for its lowest weekly finish in six below $1318 per ounce.
With gold prices down 1.4% from last Friday, silver also held near this week's lows, losing 3.5% from last weekend to trade at $16.52 per ounce.
World stock markets followed Wall Street's gains overnight, with the Stoxx Europe 600 index reaching near 3-month highs.
Crude oil slipped to trade $1 below Tuesday's new 3-year highs above $75 per barrel of Brent.
Longer-term interest rates also edged back, holding the yield offered by 10-year US Treasury debt 5 basis points below Tuesday's peak at 3.04% – a high matching end-2013's then two-year high.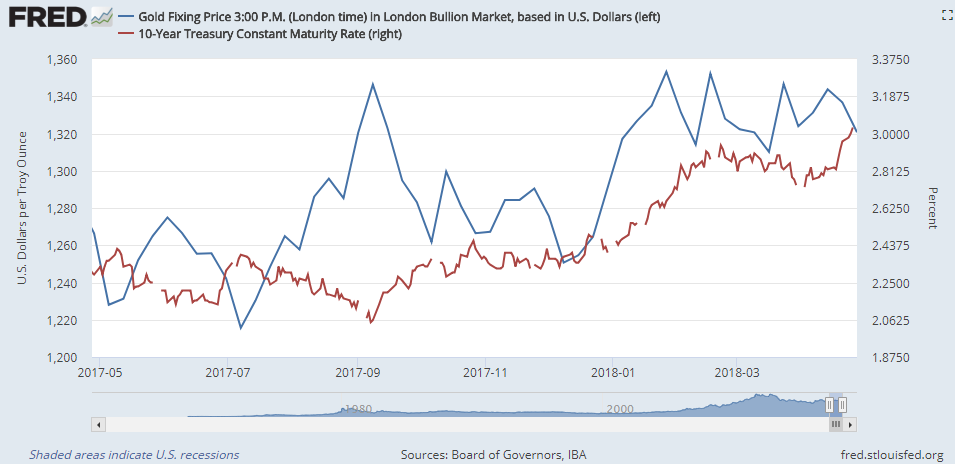 "Rising yields tend to weigh on gold prices as they increase the opportunity cost of holding gold," said this week's note from specialist analysts Metals Focus.
"It is therefore likely that gold could remain capped in the short-term. However, if inflationary expectations become more entrenched [thanks to rising oil prices], gold could benefit as it starts to act as an inflation hedge."
In contrast to Dollar-priced bullion on Friday, the
UK gold price in British Pounds per ounce
jumped to touch £960 – near its highest weekly close since mid-January – as Sterling sank on the currency market following the weakest GDP data since 2012.
Real UK economic output grew just 0.1% between New Year and end-March compared with the previous 3 months, the
Office for National Statistics said
Friday morning, well below analyst forecasts.
"The Bank of England is [now] more likely than not to sit tight at [its] May meeting," reckons Howard Archer, chief advisor at economic forecasting group EY Item Club.
That would leave UK interest rates at 0.5% – fully two percentage points below the most recent annual pace of inflation.
"However, we suspect this delay will prove short-lived," Archer adds, "as the economy shows improvement and the MPC looks to gradually normalize monetary policy."