Gold Prices Near 4-Week High as Swiss Refiners Re-Open to Ease Comex Squeeze, Stock Markets Rally with Oil
Monday, 4/06/2020 14:29
GOLD PRICES rose strongly Monday lunchtime in London as world stock markets bounced following news of a lowdown in new coronavirus cases across Europe, current epicenter of the global pandemic, writes Atsuko Whitehouse at BullionVault.
Japan's Prime Minister Shinzō Abe was however expected to declare a state of emergency starting Tuesday, while UK Prime Minister Boris Johnson was admitted to hospital after first testing positive for Covid-19 ten days ago.
Spot gold prices rose 1.3% to $1640 per ounce, very nearly a 4-week high, while US
gold futures contracts
on the CME's Comex exchange traded at $1653 per ounce for April settlement.
"Confidence in the futures market [is] returning following the extreme moves in [exchange-for-physical costs]," said a trading note from Swiss refining and finance group MKS Pamp last Friday.
Latest data show that hedge funds and other leveraged speculators in Comex gold futures and options cut their bullish betting still further on gold as a group in the week-ending 31st March, the end of the first quarter.
Long positions fell 43% from the new record peak of mid-February, but short positions declined more dramatically over that period, down by 91%.
Overall, that kept last Tuesday's net long position of Managed Money traders at the smallest in 2 weeks.
"The data confirmed that the declines on Comex prices last Tuesday were caused by hedge funds closing positions while equity and bond markets continued to see high volatilities," said Koichiro Kamei, a financial and precious-metals analyst.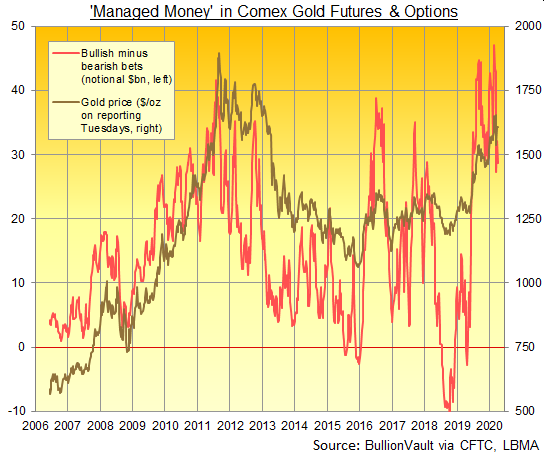 Three of the world's biggest gold refineries, Valcambi, Argor-Heraeus and PAMP, said they
will partially reopen
after a two-week closure that disrupted global supply of the metal.
Together, says Reuters, those 3 process about 1,500 tonnes of gold a year – around 25% of total
Good Delivery gold bullion bar
production – also transforming large bars into 'retail' products such as small bullion bars and gold coins, as well as producing even higher purity metal for electronics and medical use.
Fears that it would be impossible to turn enough 400-ounce bars stored in London into 100-ounce bars used in New York drove US gold futures sharply above London prices after the refiners closed, and has also spurred the launch of a new Comex contract, deliverable with London standard bars through
the so-called ACE system
.
The Swiss reopening is also "likely to ease some of the tightness in the marketplace," says Rhona O'Connell at brokerage INTL FCStone, "although logistics remain [difficult] in terms of delivery.
"Trucking is obviously an option within continental Europe, within strict limits, but airborne delivery is still going to be an issue. This is part of the reason why the cash to June spreads on Comex remains bloated as risk management is still to the forefront."
With Japan's leader Abe seeking a near $1 trillion stimulus package but receiving criticism for his plan to distribute two cloth facemasks to each of Japan's 50 million households – ridiculed as "Abenomask" in a pun on Abenomics – US President Donald Trump said Friday he would not wear a mask, despite new guidelines issued by the White House.
Despite latest data from US epicenter New York showing a slight drop in new infections and deaths, "The next week is
going to be our Pearl Harbor moment
. It's going to be our 9/11 moment," says US surgeon general Jerome Adams.
Crude oil prices meantime rallied further from their historic crash as a Russian policymaker said Moscow and Saudi Arabia are
"very, very close" to a deal
on cutting output to try and stabilize the market as stockpiles build around the world on a collapse in demand.
Late last week, prices surged with US and Brent contracts posting their largest ever weekly percentage gains due to hopes that OPEC and its allies would strike a deal.
Silver prices
were up 1.3% to $14.60 per ounce, while platinum also rose to 1-week highs, reaching $734 per ounce.