Gold Price Now $100 Off March's 7-Year High as US Jobless Rate 'May Hit 1-in-3', Crude Oil Below $20
Tuesday, 3/31/2020 14:22
GOLD PRICES dipped back below $1600 per ounce in London trade Tuesday, retreating $100 per ounce from early March's new 7-year highs, as world stock markets struggled to extend their week-long rally in the face of awful economic data and forecasts as the spread of coronavirus accelerated.
Monday's infection data, released this morning, said the United States posted the biggest rise in new cases, while China's Wuhan province – source and worst-hit region so far worldwide – saw zero.
But US unemployment
could in fact reach over 32% by mid-year
according to back-of-an-envelope estimates in a new blog post from the St.Louis Federal Reserve, with more than 47 million lay-offs between April and June.
"This is
not a normal recession
that builds and spreads through time," CNN quotes University of Michigan economics professor Justin Wolfers.
"Rather, it's an incredibly synchronized event with the government as a conductor."
Gold-backed ETF
the GLD saw a small outflow of investor cash on Monday, its first decline in 6 trading days.
Smaller competitors the iShares IAU product meantime saw 1.7% growth for the day, taking its number of shares in issue to a new all-time high.
"In contrast to its impact on institutional investment and prices," says an article for the Singapore Bullion Market Association's Crucible magazine by Nikos Kavalis of specialist analysts Metals Focus, "the Covid-19 outbreak has and will most likely continue to weigh on the physical [consumer] market.
"Although some risk-averse retail investors will be drawn to gold, we believe this will be far outweighed by the negative impact the crisis will have on personal incomes and [via] elevated gold prices.
Shanghai gold prices today fell nearly $18 per ounce below comparable London quotes, showing a discount to the world's central trading and storage hub for all but 3 days this March.
Gold prices in No.2 consumer market India meantime held at near-record discounts to London as the Modi administration's 3-week economic shutdown closed jewelry stores and bullion trading alike.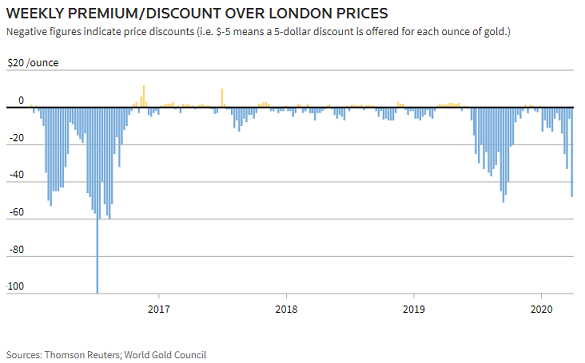 Now the worst-hit nation for Covid-19 deaths, Spain last week saw
flows of gasoline fall 83%
from the same period in 2019, oil pipeline operator CLH said Tuesday, with diesel down 61% and jet-fuel down 85%.
"The paper and physical market, both for WTI and Brent [crude oil benchmarks], are split," says Bloomberg energy correspondent Javier Blas.
"Financial inflows, mostly retail [investors], are helping to keep the futures market above $20 a barrel, while physical markets tumble...[with Europe's] Brent at $17.79 a barrel, almost $5 below ICE Brent futures."
"Coronavirus may cause
global food shortages
as panic buying and export curbs hit supply," says the
South China Morning Post
, reporting a warning from the United Nations' Food & Agricultural Organisation that April and May look tight, most especially for the world's most populous nation China – "now heavily dependent on imports for some crops like soybeans."
With online grocery shopping volumes exploding worldwide, staff at packing and fulfilment centers across the United States staged mass walk-outs on Monday – including at Amazon – in protest at a lack of physical distancing, sanitized work-spaces and protective gear, plus demanding double pay during the crisis.
Emergency powers passed today by the Parliament of European Union member Hungary approved "rule by decree" for right-wing Prime Minister Viktor Orban.
"Notably, no elections can take place while the measures are in effect," notes Foreign Policy magazine, "and the bill does not include an end date."
Here in the UK, the Government today asked police forces across the country to take a "consistent approach" in enforcing social distancing and stay-at-home orders, after action against hill-walkers in the Peak District was
called "disgraceful"
by a former Supreme Court judge and drew criticism from former Finance Minister (and now newspaper editor) George Osborne.
So many police officers are doing an incredible job in this crisis - but forces that are stopping shops selling Easter eggs, putting black dye into lakes, setting up check points and buzzing lone walkers with drones have lost all common sense, and are undermining public consent

— George Osborne (@George_Osborne) March 30, 2020
Both levels marked new record highs when first reached this time last month.