Gold Prices Hold 'Psychological $1200' as US Fed Decision Trumps Brexit, Dutch Election
Monday, 3/13/2017 13:11
GOLD PRICES held above $1200 per ounce Monday morning in Asia and London, retaining a 4% drop for this month so far ahead of this week's key central bank interest-rate decision from the US Federal Reserve, writes Steffen Grosshauser at BullionVault.
Wednesday will also see the Netherlands go to the polls, with the anti-Euro anti-Islam Geert Wilders' Freedom Party projected to win a majority in the Tweede Kamer.
The UK may meantime trigger 'Article 50' to start 2 years of Brexit negotiations to quit the European Union.
Scottish nationalist Nicola Sturgeon today said her SNP party will
seek a second referendum
on independence from the UK, aiming to remain a member of the EU instead.
With Wednesday's Fed hike now a 90% certainty according to futures market bets, other central banks' decisions this week include the Bank of Japan, the Bank of England and the Swiss National Bank – all due on Thursday.
"The markets are focusing on when the Fed will next raise rates, plus the pace of its rate hikes," says Masahiro Ichikawa, senior strategist at Sumitomo Mitsui Asset Management.
"So the tone of Fed chair Janet Yellen will be closely watched" in her post-decision press conference.
"People are now quite sure that [US] interest rates will go up," agrees Yuichi Ikemizu, Tokyo branch manager at ICBC Standard Bank.
"Pretty much everything is discounted into the gold price [and it] looks like people are ready to buy gold below $1200...now a sort of psychological level.
"I think people got confounded after Friday's move and the shorts are buying back now."
Short positions against gold prices amongst Money Managers rose sharply last week, according to US regulator the CFTC's latest data.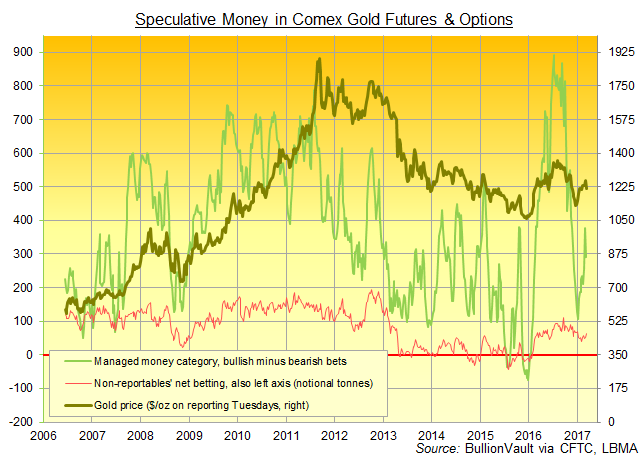 Together with a cut to bullish bets, that took the net speculative long position of that category of trader down by more than one fifth.
Hedge funds and other large speculators also cut their net long position in Comex silver for the first time since the end of last year.
Silver tracked gold prices Monday, rallying to $17.10 per ounce after hitting a new 5-week low of $16.84 late Friday.
Platinum and palladium also rallied, gaining around 0.4% each.
Oil prices in contrast dropped to their lowest level in 3 months, with Brent crude oil falling further towards $50 per barrel despite oil cartel Opec's efforts to curb global output.