Gold Price Retreats as Equities Bounce Despite Covid-19 Crisis, Trump Attacks 'Pathetic Fed'
Tuesday, 3/10/2020 15:30
GOLD PRICES fell hard Tuesday as world stock markets bounced from yesterday's plunge and government bond prices also retreated, edging long-term interest rates sharply higher from Monday's record lows amid the worsening coronavirus outbreak.
The government in Japan today approved a bill enabling Shinzo Abe to declare a "worst case" state of emergency after the Prime Minister was criticized for failing to respond quickly enough to the outbreak of Covid-19 in the world No.3 economy –
"most likely" far worse
than official estimates say, according to the National Institute of Infectious Diseases.
No.3 European Union economy Italy meantime began its first day of near-total shutdown after Prime Minister Giuseppe Conte extended Sunday's restrictions on north-eastern regionas to the whole country.
"All forms of gathering in places open to the public are prohibited...[with] all organized events...including those of a cultural, recreational, sports or religious character suspended...[whether] in public or private...indoors or outdoors."
Milan's FTSE MIB stock index rallied just 0.5% by mid-afternoon after losing over a tenth of its value on 'Black Monday'.
European stock markets as a whole halved their earlier 4% bounce from yesterday's plunge to 14-month lows on the EuroStoxx 600 index.
Gold priced in the Euro touched a 1-week low at €1452 per ounce, down €100 from late-February's new record high – and down from yesterday's spike to €1500 – as bond yields rose steeply before slipping back.
With 10-year German Bund yields whipping from -0.90% to -0.71% and then -0.80% – formerly the record low of last August's global growth panic – yields on US Treasury also swung higher only to retreat.
Real 10-year rates, adjusted for inflation expectations, currently show a near-record relationship with gold prices, recording an r-squared of 93.2% across the last 52 weeks.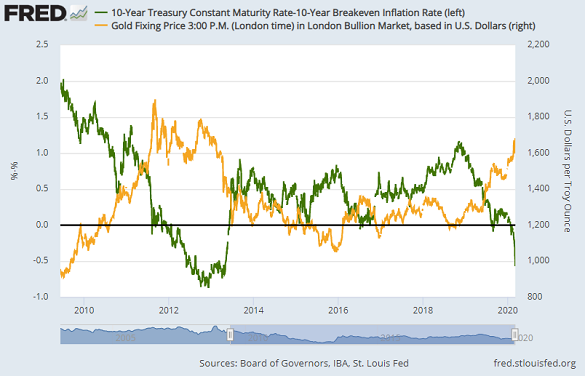 Back in Washington, "Our pathetic, slow moving Federal Reserve, headed by Jay Powell, who
raised rates too fast and lowered too late
, should get our Fed Rate down to the levels of our competitor nations," said Trump ahead of Tuesday's New York open.
"They now have as much as a two-point advantage, with even bigger currency help. Also, stimulate!"
Copper meantime rallied 2.8% from Monday's plunge to the cheapest since December 2016, down by 15 cents in the Dollar from January.