Bond Yields Drop, Gold Prices Break Through 'Resistance' as Covid-Hit China Cuts Interest Rates
Thursday, 2/20/2020 12:29
GOLD PRICES broke through what chart analysts had called "strong resistance" at last month's spike to $1611 per ounce in London trade Thursday, rising $7 higher as Asian and European stock markets rose after world No.2 economy China cut its key interest rate in a bid to support businesses hit by the continued coronavirus shutdown and mass quarantines.
The death-toll from Covid-19
in China today passed 2,000
– almost four-fifths striking source-city Wuhan – while confirmed cases rose above 75,000 worldwide, all but 571 of them inside the world's most populous country.
While China's new bank lending data today showed a big jump for January, the People's Bank this morning trimmed its benchmark interest rate to 4.05%, with
more "aggressive credit easing
, including shadow-banking credit" from outside the formal banking sector looking very likely according to brokerage T.S.Lombard's China economist.
Shanghai gold prices rose for the 6th session running, reaching the highest since September 2012 at ¥362 per gram.
"Gold is like a lot of...metals, commodities and negative yielding assets," says Timothy Horsburgh, a strategist at $1.2 trillion brokerage Invesco, "you have to pay to store it.
"[But] as rates go further and further down, that becomes less of a trade-off for investors. The [falling] interest-rate environment makes gold more attractive."
Over the last 10 years, the price of gold has shown a strongly negative relationship with real interest rates, giving
an r-squared
of 31.5% for Dollar-priced gold against 10-year inflation-adjusted US Treasury bond yields.
That statistical figure – measuring how much of a price's movements are explained by moves in another asset – has more than doubled to 68.0% so far in 2020.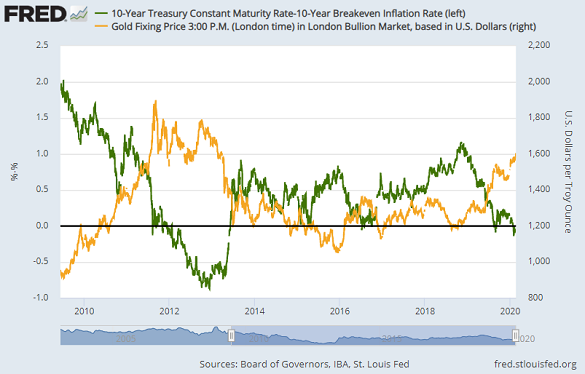 UK savers were
today "dealt another blow"
says consumer-finance site MoneySavingExpert, after 2 of the best-paying bank accounts cut their rates to just 1.3%.
Led by the European Central Bank's negative policy rate of -0.50% meantime, some 61 banks in Germany are
now charging retail depositors
to hold money with them, says comparison site Verivox.
Seven have set lower size-limits than the standard €100,000 and 2 set no lower limit at all.
"If the European Central Bank continues with its ultra-relaxed monetary policy," Verivox goes on, "even more financial institutions are likely to introduce negative interest rates, even for average investment amounts."
Germany's 10-year Bund yield today fell to -0.44%, near its lowest since November.
Priced in the Euro, gold came within €1.60 of €1500 per ounce, setting a new all-time high for the 6th session running.
Ten-year US Treasury yields meantime erased the last of February's earlier rise, falling back to offer new buyers just 1.54% per annum.