Gold Prices 'Caught' Between Covid and Massive Stimulus Ahead of Chinese New Year
Monday, 1/25/2021 14:47
GOLD PRICES rose Monday as investors awaited new US President Joe Biden's next effort to push through his proposed $1.9 trillion economic stimulus plan as the Covid Crisis worsened again worldwide, writes Atsuko Whitehouse at BullionVault.
Spot gold bullion prices in London trade edged 0.6% higher to $1866 per ounce after dropping 0.9% on Friday, cutting last week's gain in US Dollar terms to 1.5%.
The Dollar index, a measure of the US currency's value versus its major peers, slipped from Friday's decent advance as the new week began.
Despite US government borrowing already reaching a post-WW2 record near 140% of GDP, borrowing costs for Biden's plans eased lower in the bond market, with the yield on benchmark 10-year US Treasury debt falling to 1.07%.
"In an economic environment that is both hot and cold, monetary policy is becoming increasingly complex, and the gold market is finding it difficult to find its bearings," said Koichiro Kamei, a financial and precious-metals
analyst in his daily note
published by the Japan Gold Market Association.
Gold prices on the Shanghai Gold Exchange continued to show a premium to London overnight, albeit at $3 per ounce.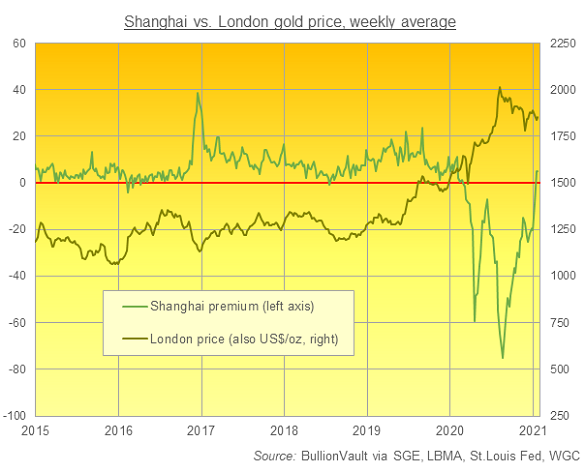 Prior to the start of the Covid Crisis last New Year, gold prices in China – the metal's No.1 mining and consumer nation – showed an average $9 per ounce premium to London quotes.
That then sank to a discount as wide as $88 per ounce – a dramatic all-time high – as Chinese demand evaporated and global prices surged, peaking at $2075 per ounce in early August and surpassing the previous high seen in 2011.
Gold bullion withdrawals from the SGE and the key Au9999 contract's trading volumes were 27% and 30% higher respectively month-on-month in December
according to the latest data
, suggesting manufacturers were actively preparing for improved household demand ahead of the traditional gold buying and gifting season of Chinese New Year, which falls on 12th February in 2021.
Last week saw Shanghai gold prices offer an average $5 per ounce incentive to new imports from London.
"We expect China's gold demand to
revive further in 2021
as the nation's economic recovery is likely to continue and stimulation of consumer markets will be a priority positioned by Chinese policy makers," says the mining industry's World Gold Council.
Total coronavirus cases in the US are approaching 25 million as Biden faces opposition to his recovery plans from key Senate Republicans including moderates like Susan Collins of Maine and Mitt Romney of Utah.
With 100,000 dead in the UK, London's government is set to introduce
mandatory quarantine for international arrivals
, but ministers are split if it should be imposed on all passengers or only those arriving from countries with new strains of Covid-19.
The UK variant of coronavirus that emerged in south-east England before Christmas and which is now spreading worldwide may be more deadly, Prime Minister Boris Johnson said on Friday.
Gold prices for UK investors rose 0.5% Monday to reach £1363 per ounce after making the first weekly gain in 3 weeks.
European gold prices were up by 0.8% to €1536 per ounce, adding to last week's 0.7% gain.