Gold Price Hits 1-Month High as US Fed Defies J.P.Morgan on Rates, Wants 'Persistent, Significant' Inflation
Thursday, 12/12/2019 14:15
GOLD PRICES jumped to 1-month highs against a weakening US Dollar in London trade Thursday after the Federal Reserve confirmed it has no plans to raise interest rates in the world's largest economy in 2020.
"In order to move rates up, I would
want to see inflation that's persistent and significant
," said Fed chairman Jerome Powell – subject of repeated attacks for not slashing rates even lower or restarting QE money creation by President Trump – at his regular press conference following the US central bank's latest policy decision.
US consumer-price inflation last month rose at its
fastest annual pace in a year
, new data said ahead of Wednesday's Fed comments, putting 'core' inflation at 2.3% with Fed interest rates now capped at just 1.75%.
But gold prices today spiked to $1485 per ounce, up $25 for the week so far, after US factory-price inflation missed analyst forecasts for November, slowing to 1.3% per year excluding food and energy costs.
Yesterday's Fed decision to keep US rates unchanged in December as widely expected saw the giant SPDR
gold ETF
(NYSEArca: GLD) receive its first investor inflows for 2 weeks, regaining the tiny 0.03% outflow which took its total size down to a new 3-month low on Tuesday.
The cheaper iShares Gold Trust (NYSEArca: IAU) meantime expanded for the second time in a week, needing a new record of 360 tonnes of gold backing but still only two-fifths the size of the GLD.
"Firmer session for the precious," says a trading note from Swiss refiners and finance group MKS Pamp, "as the FOMC decision put pressure on the greenback."
Making no change to its September forecasts for GDP or inflation, the Fed
cut its 3-year outlook for US interest rates
, pushing a hike to 1.9% back to end-2020, with a rise to only 2.1% now seen by end-2021, rather than the 2.4% predicted just 3 months ago.
Last December's "dot plots" foresaw interest rates reaching 3.1% by end-2021,
itself a cut
from the 3.4% forecast in September 2018.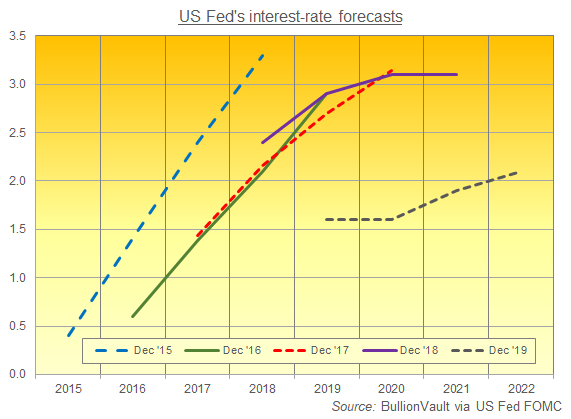 "The policy rate is highly unlikely to move higher and the Fed is capping the rise in real medium-term yields," says US financial giant Citgroup's commodity researcher Aakash Doshi, "so you reduce the opportunity costs of holding gold."
Adding that this could also work to boost inflation while depressing the Dollar's FX value, "All three of these factors
should be supportive for gold
prices in the medium term, or at least not a major sell off."
But "Gold is lacking a catalyst that will drive prices higher in 2020," counters Michael Widmer at Bank of America-Merrill Lynch, speaking to Kitco.
"It's all about interest rates. I think we would need to see renewed dovishness in central banks to push gold marginally higher."
US investment and London bullion bank J.P.Morgan goes further, calling this year's 3 interest-rate cuts
just "a mid-cycle adjustment"
from the Fed and forecasting a rotation into equities and other "risk" assets by investors for 2020 as "cyclical or policy risks recede."
"If cyclical or policy risks recede into 2020, it would be difficult for asset allocators to not accept higher equity weightings," the analysts wrote. That's especially the case given how cash and bonds yield "significantly" less than equities now, they wrote.
Energy-giant Saudi Arabia's newly floated state oil company meantime rose again on the Riyadh stock market Thursday, taking its total capitalization over the $2 trillion valuation sought by the Kingdom's ruler Crown Prince Mohammed bin Salman.
Jumping by the Riyadh exchange's maximum 10% limit on its debut Wednesday, the market capitalization of the Saudi Arabian Oil Co (TADAWUL: 2222) today extended its surge past Microsoft Corp and Apple Inc, despite only 1.5% of the corporation being available to trade –
one of the smallest "free floats"
of any publicly-listed shares worldwide.
The European Central Bank today followed the US Fed in making no changes to monetary policy for the world's 2nd largest economic bloc, continuing with €20bn per month of QE bond purchases and minus 0.5% deposit rates after the first meeting led by ex-IMF director, French career politician Christine Lagarde.
The
UK gold price in Pounds per ounce
meantime leapt 1.3% as voters went to the polls for the 3rd General Election in less than 5 years, erasing last week's drop to 5-month lows and reaching £1128 as Sterling eased back from its recent surge on the FX market.