Gold Price Rallies to $1800 But 'Most Massive Speculation' in Industrial Commodities
Monday, 2/22/2021 15:28
GOLD PRICES rose back above $1800 per ounce Monday in London, rallying 2.6% from Friday's 7-month low amid signs of stronger demand from the metal's two biggest consumer nations plus more gains for industrial commodities, with copper prices hitting a 10-year high, writes Atsuko Whitehouse at BullionVault.
Spot gold prices rose to $1806 per ounce as New York opened for business, recovering from last week's drop to $1760 but trading nearly 5% down so far this year.
The Dollar Index – a measure of the US currency's value versus its major peers – traded broadly sideway after declining two sessions in a row, while major government bond prices steadied after falling with hardly a pause since New Year.
That pulled 10-year US Treasury yields back down from near 1.40% per annum, an area last visited a year ago.
"[With] rates going higher and inflation expectations peaking out, we're
seeing a lot of profit-taking in gold
, and people are going from gold into industrial metals such as copper," said Peter Thomas at brokerage Zaner Group in Chicago after Friday's drop.
"It's a perfect storm."
Three-month copper on the London Metal Exchange climbed as much as 3.1% to $9,187 per tonne on Monday, the highest since September 2011.
"Trading in copper was given a boost by the return of Chinese traders from the New Year holiday late this week,"
says another derivatives broker
, Malcolm Freeman at Kingdom Futures, pointing to "the most massive surge of speculative buying."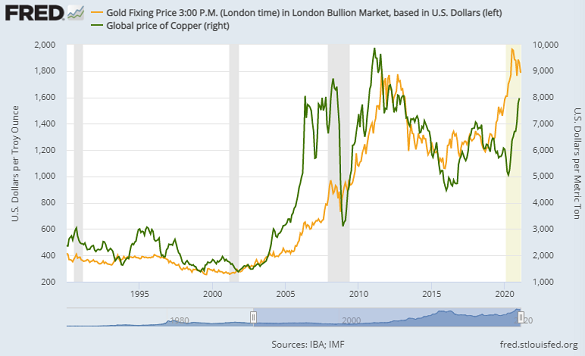 Prices for silver, primarily an industrial metal, rose 1.0% to $27.83 per ounce Monday lunchtime in London, recovering last week's 0.3% decline and trading 3.4% higher for 2021 so far after reaching
8-year highs near $30 at the beginning of February
.
Platinum, which also finds two-thirds of its demand from industrial uses, dipped 0.5% to $1271 per ounce after
hitting 6-year highs at $1340 last Monday
and still showing nearly one-fifth gains so far in 2021.
Rising by more than 29% since the start of 2021, European crude oil climbed above $63 a barrel as the Opec+ cartel of producer nations was reported to be arguing over its next meeting to fix output quotas amid the continued shutdown of south-eastern US production
amid freak winter storms
.
Gold prices on the Shanghai Gold Exchange meantime continued to show a premium to London overnight, increasing to near $9 per ounce on Monday – the average seen before the Covid-19 outbreak took hold last Lunar New Year and crushed prices in the No.1 gold consumer nation far below the London benchmark.
Demand has also rebounded in No.2 gold consumer India, where last week's price drop to the cheapest since June last year saw domestic dealers
charging a premium of $7 an ounce
above London quotes, allowing for sales tax and import duty – dramatically cut from 12.5% to 7.5% in this month's Union Budget.
Western bullion-backed trust funds in contrast have continued to shrink, with the SPDR Gold Trust (NYSEArca: GLD) and the iShares gold ETF (NYSEArca: IAU) now seeing net investor outflows for the 6th and 5th consecutive week respectively.
The GLD has now shrunk by 10% since November, when Pfizer announced the first successful Covid vaccine trials.
Hedge funds and money managers also slashed their bullish positions in Comex gold derivatives and raised them in silver contracts last week, according to the latest data from US Commodity Futures Trading Commission (CFTC).