UPDATE: Gold Price Sinks $30 After London Fix, Silver -12% from Monday Amid Fed Rate-Cut Rumors
Friday, 2/28/2020 17:49
The SLUMP in gold prices accelerated Friday afternoon, taking the metal $30 lower inside an hour and erasing the previous 2 weeks of gains as rumors spread that the Federal Reserve is preparing to cut US interest rates to try and halt the stock market plunge, spurred by widening cases of novel-coronavirus outside China.
"The last time that happened was January 22, 2008" – depths of the global financial crisis.
The S&P500 index of US stocks cut an initial 4.0% plunge in half, and the tech-heavy Nasdaq briefly erased all of its opening 3.5% drop.
The Bloomberg Commodities Index in contrast – a broad measure of natural resources led by crude oil and copper but also tracking gold and silver – today slid to its lowest since 1987.
For gold, last week's "extreme [bullish] positioning" in the Comex derivatives market had raised a "threat of a speculative wash-out from long liquidation," says Jonathan Butler at Japanese conglomerate Mitsubishi Corp, "and new shorts already may have started."
Holding above $1600 per ounce for 30 minutes after today's benchmarking auction in London – the single moment of deepest liquidity in the physical market – gold prices then sank to $1580.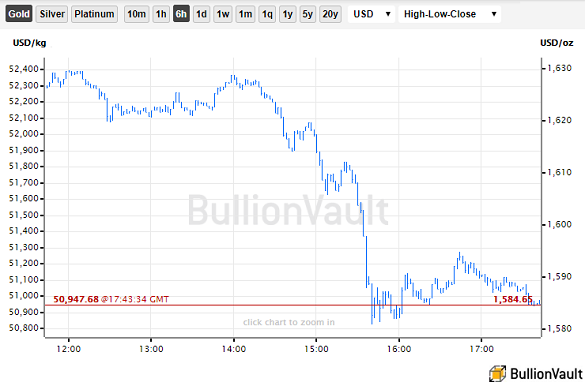 Silver meantime hit an 11-week low at $16.61, down 12.3% from Monday's peak.
Platinum prices fell to $850, the lowest since August in US Dollar terms and nearly 20% down from the early-2017 high reached only 6 weeks ago.
But with the VIX index of stock-market volatility "having spiked to highest level since 2011 at 46%," says a note from French investment and bullion bank Natixis, "central banks could start talking about more accommodating policies, as early as next week, in order to stabilize markets."
"There's always a
risk here of catching falling knives
," says Canadian economist and strategist David Rosenberg, "but on average, whenever the VIX hits 40, the S&P 500 is higher a month later."
"The widespread sell-off in risk assets may look overdone if the coronavirus is contained," Butler at Mitsubishi goes on, "[which] the outbreak in China increasingly appears to be, and if governments around the world engage in some form of stimulus to counter the associated economic downturn."