Gold Price Up Yet Gold ETFs Shrink as Dollar Falls, Inflation Forecasts Break 10-Year Average
Friday, 12/18/2020 13:29
GOLD PRICE gains of 2.6% for this week held firm in London trade Friday, keeping wholesale bullion at $1885 per ounce even after US gold ETFs shrank yet again.
Asian and European stock markets today failed to follow US equities up to new record highs amid worsening Covid cases and lockdowns worldwide.
Copper and crude oil trimmed their earlier rise to 7-year and 8-month highs respectively as the Dollar rallied from fresh multi-year lows on the FX market.
Inflation rates implied by US bond prices rose to 1.97% on 10-year debt, the highest since April 2019 and above the last decade's daily average.
Silver prices
recovered an overnight dip to trade back above $26 per ounce. Platinum reversed all but $10 of last week's $50 drop, regaining the $1050 mark – a new 4-year high when reached early this December.
"More joy for the precious complex as the US Dollar sell-off continues," says a trading note from Swiss refiners MKS Pamp.
"Given the rising inflation expectations, weakening Dollar and lofty valuations in some risky assets," says US investment bank Goldman Sachs, "demand for safe-haven inflation hedges should remain supported next year, continuing to push gold towards our $2300 target."
Gold investing through bullion-backed ETF trust funds has shrunk however as prices rose this week, with the giant SPDR Gold Trust (NYSEArca: GLD) contracting by 0.7% since last Friday.
Looking further back, gold prices have now risen on 12 of the last 20 trading days, moving 0.8% higher by last night's close from this time 5 weeks ago.
The GLD has meantime expanded only once and seen 12 days of net outflows, showing liquidation of 4.2% overall.
The smaller iShares
gold ETF
(NYSEArca: IAU) has also shrunk over that period, seeing net outflows of 1.0% from what was a new record size.
The GLD gold-backed ETF ended Thursday at its smallest since 22 June.
Gold bullion prices in contrast fixed in London near a 6-week high above $1890 per ounc e.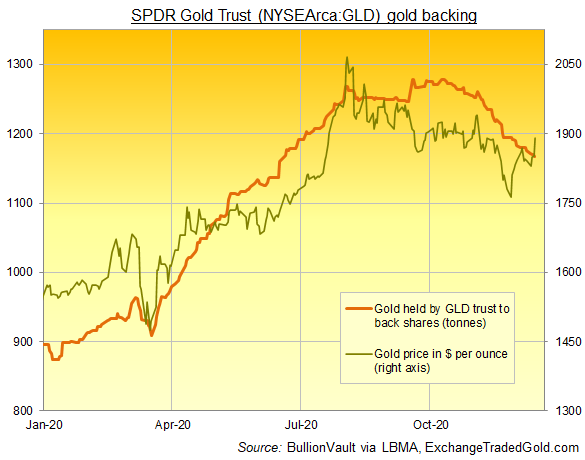 With most of the world's major gold-backed ETFs vaulting metal in London, gold bullion exports from refining hub Switzerland to the UK "plunged to almost zero" in November reports Reuters after seeing heavy flows to London storage throughout 2020's Covid Crisis.
"Trade figures from Switzerland [in contrast] reflect some signs of life in price-elastic consuming nations," says Rhona O'Connell at brokerage StoneX today, pointing to a jump in net imports of Swiss gold bullion to several Asian nations for November.
"Among those that we monitor, the reported exports to Thailand jumped to a net 9.8 tonnes. In the first 10 months of this year it was a very different story, with Switzerland importing a net 117t from Thailand."
But while major jewelry consumers India and Turkey also saw "multi-month highs" in their net imports of gold from Switzerland, "shipments to Hong Kong and China, usually the biggest buyers of Swiss gold, remained at rock bottom," says Reuters.
Gold prices in Shanghai this week showed an average discount to London quotes of $21.40 per ounce, the smallest in 3 weeks but still reflecting very weak demand versus ample supply in China, the metal's No.1 mining and consumer nation.
"Demand is very subdued" in India, says one Mumbai wholesaler. "Retail buyers are postponing purchases because of a price rise," leading dealers to offer gold at $1 per ounce discounts to official import prices, more than reversing last week's $2.50 premium.
Looking at the gold ETFs, "Outflows are likely to continue at a slower pace now," reckons the precious-metals team at French investment bank and London market maker BNP Paribas, "probably balanced by renewed buying strength on the back of the inflation narrative."
"Meanwhile, the holiday season closes in and liquidity (or the lack thereof) will start pinching from next week, with lower interest to put on new trades and – most likely – more interest to close trades ahead of the year-end."
European stock markets meantime struggled Friday to extend this week's earlier 1.8% gains, holding the EuroStoxx 600 index at the highest since late February, start of the 35% Covid Crash.
After gold-heavy UK fund managers
Ruffer this week added Bitcoin
to one of their products following last month's 40% jump in price, long-time gold bull Chris Wood – now global head of equity strategy at US brokerage Jefferies – is
advising a 5% allocation
to the crypto-currency after it broke new all-time highs above $20,000.