Gold Price Rises as Fed Vows Zero Rates to 2024, Asset Managers Welcome 'Any Stimulus' as Covid Lockdowns Spread
Thursday, 12/17/2020 13:49
GOLD PRICES set new 4-week highs against a falling US Dollar in London trade Thursday, touching $1883 per ounce as the US currency fell to new multi-year lows on the FX market after the Federal Reserve revised its key economic forecasts upwards, but kept its outlook for interest rates at zero until 2024 at the earliest.
Along with GDP – now predicted to fall only 2.4% in 2020 with a 4.2% rebound next year – the
Fed's forecast
for the cost of living was revised upwards, taking 'core' PCE inflation one notch higher for both this year and 2021 but still keeping it below the US central bank's 2.0% target until 2023.
The Fed has held its key interest rate above the actual pace of core PCE inflation in only 87 of the 250 months so far in the 21st Century, just 34.5% of the time.
That contrasts with a positive real rate of interest 87.5% of the time over the prior 30 years.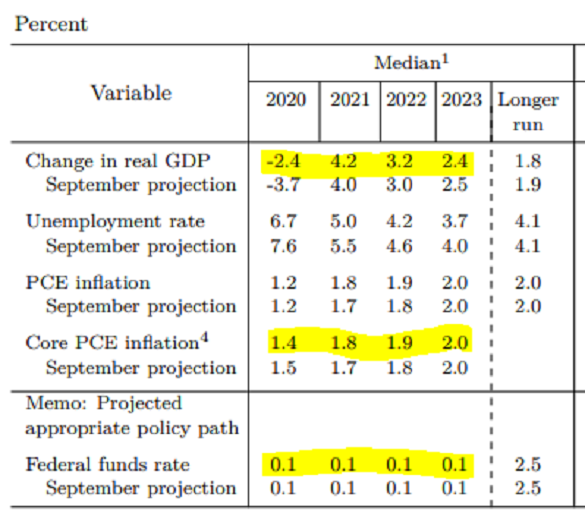 "The metals saw whipsaw pricing around the FOMC headlines before extending higher into the close," says Swiss refining and finance group MKS Pamp in a trading note.
"Solid gains across the precious complex [came] as US stimulus hopes rise and the FOMC reaffirms its stance."
With press reports claiming Democrat and Republican politicians are close to agreeing a $900 billion emergency package, "
Any stimulus is good stimulus
at this point," reckons portfolio manager Mary Nicola at $23bn asset manager PineBridge Investments.
"This will provide a bit more of a boost to the recovery."
"The continued low interest rate environment in the US should continue to support [gold prices]," MKS goes on, "with key downside supports at $1840-50 and $24.70-$25.00 for gold and silver respectively."
Silver prices today neared 6-week highs against the falling Dollar at $25.85 per ounce as real US bond yields, as suggested by inflation-protected debt prices, fell to minus 1.04% per annum on 10-year notes, just shy of the multi-decade lows hit as
gold and silver peaked this summer
.
The UK gold price in Pounds per ounce rose less steeply than the Dollar price on Thursday, regaining last Friday's level at £1385 to erase this week's earlier 2.2% drop after the Bank of England joined the US Fed in holdings interest rates at a record low and continuing with unprecedented quantities of government bond purchases.
"Recent global activity has been affected by the increase in Covid cases and associated re-imposition of restrictions," said the
MPC in its statement
.
"If the outlook for inflation weakens, the Committee stands ready to take whatever additional action is necessary to achieve its remit...[and] does not intend to tighten monetary policy at least until there is clear evidence that significant progress is being made in eliminating spare capacity and achieving the 2% inflation target sustainably."
Ahead of New Year Eve's final UK exit from the European Union, inflation in the world's 5th largest national economy
last month fell to 0.3% per year
according to the Office for National Statistics, its weakest since the "deflation" scare of late-2015 preceded the Brexit referendum.
Euro gold prices today rallied to 1-week highs above €1535 as France's President Emmanuel Macron tested positive for Covid-19 and Eurozone nations Germany and Italy joined the UK and Denmark in imposing tough new social restrictions a week before Christmas.
Meantime in Ankara, "If the United States thinks strategically, they need Turkey very much," said Nato member Turkey's foreign minister Mevlüt Çavuşoğlu in a TV interview today, responding to Washington's new sanctions over the purchase of Russian-made air defense systems.
"If we were to step back, it would have happened by now."
Senior civil servants in the former 'special economic zone' of Hong Kong – now seeing a "fourth wave" of novel coronavirus infections and also subject to the same US rules as the rest of China following Beijing's anti-democratic crackdown in the province – yesterday
swore allegiance to the Communist regime
in a ceremony apparently made mandatory if those workers wish to keep their jobs.