Gold Price Regains $1850 as Real Rates Hit 3-Month Low Ahead of the Fed
Tuesday, 12/15/2020 13:52
GOLD PRICES rose back above $1850 per ounce in London trade Tuesday, rising 1.8% from yesterday's low as world stock markets struggled to extend their run of new record highs and US inflation expectations pointed higher ahead of this week's Federal Reserve meeting on monetary policy.
With lawmakers in Washington now widely expected to agree a new Covid stimulus package worth almost $1 trillion before Joe Biden takes over from Donald Trump at President next month, the Fed will
leave interest rates at zero
while continuing its massive bond buying and lending programs according to analysts.
Today's level of $1850 had previously been the floor for Dollar gold prices after the metal surged and set new all-time higher above $2000 per ounce this summer.
The Euro meantime slipped 0.3 cents from last week's fresh 32-month high against the Dollar, dipping through $1.2150 and helping the gold price for Eurozone investors regain last weekend's level above €1520 per ounce after the European Central Bank expanded its Pandemic Emergency Purchase Programme (PEPP) of quantitative easing by one-third to €1.9 trillion.
"It looks as if the ECB is doing everything it can in very difficult circumstances," writes chief analyst Rhona O'Connell at brokerage StoneX in her daily precious metals commentary.
"With Brexit also still in the picture it remains difficult to forecast what kind of fiscal stimulus might be forthcoming from EU members governments...keep[ing] some pressure on the Euro, which in principle favours the Dollar and therefore, all other things being equal, would be bearish for gold.
"But the nature of the problem, the associated financial uncertainty, and the likelihood of an extended period of negative interest rates, argue the other way... all of which helps to explain why gold (and silver) are moving sideways."
European government bond prices rose again Tuesday, but US Treasury bonds in contrast slipped in price, nudging the yield offered by 10-year debt 1 tick higher to 0.90% per annum.
That rise failed however to outpace a rise in market inflation expectations, which again nudged the highest rate since May 2019 at 1.90% per year.
Together that put the real yield offered by 10-year Treasurys at minus 1.00% per annum, a new multi-decade low when reached in this summer's surge in gold prices and the deepest real loss for bond buyers since mid-September.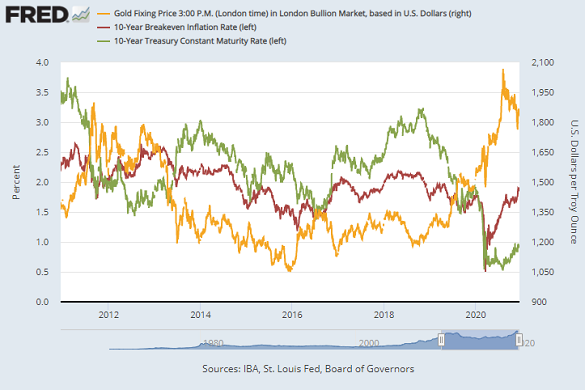 "The Greenback saw further declines during Asian trade today," says Tuesday's note from Swiss refiner and financing group MKS Pamp's trading team, "[which] underpin a mild bid
tone across the precious complex.
"However the metals remain range-bound as we head toward this week's FOMC meeting...[with] little in the way of directional flows out of China."
Gold bullion landed in China, the metal's No.1 mining, consumer and importing nation, today held around $20 per ounce cheaper than quotes in London, the global trading hub.
"Initial support remains toward $1820," says MKS, "and the figure held well in New York on Monday amid further ETF redemptions."
The giant SPDR Gold Trust (NYSEArca: GLD) yesterday saw net investor outflows for the 6th in 10 trading sessions so far in December, shrinking to its smallest size since late June to need 1,171 tonnes of bullion backing.
Competitor US
gold ETF
the iShares product (NYSEArca: IAU) meantime stayed unchanged in size yet again, holding at the same level for this month so far, some 0.9% smaller from early November's record high.
"Dishoarding of gold inventories backing gold ETFs continues at a slower pace," says the previous metals team at French investment bank and London bullion market maker BNP Paribas, "and should keep any price spikes relatively capped in the rest of the month."
Looking ahead however, "In the past 8 years, January is largely in the green," BNP goes on.