Gold Prices Steady as Bond Yields Retreat, UK Inflation Rises, Ahead of US Fed Rate Decision
Tuesday, 12/13/2016 14:15
GOLD PRICES held $10 per ounce above yesterday's new 10-month low in London on Tuesday, trading at $1162 as bond prices ticked higher, nudging US Treasury yields down from fresh 18-month highs ahead of tomorrow's Federal Reserve decision on interest rates.
New data late Monday showed the US federal deficit tripling in November from October's shortfall between receipts and spending.
Fiscal year 2016 already showed a 34% jump from 2015, according to the
New York Times
, with current plans – before Donald
Trump's tax-cutting and infrastructure promises
– set to add an extra $8.6 trillion to Washington's outstanding debts over the next decade on Congressional Budget Office forecasts.
A rebound in the Chinese Yuan today pushed Shanghai gold premiums to fresh 3-year highs at $32 per ounce above London quotes, after new figures said China's retail sales and industrial output both rose faster than expected in November.
Consumer-price inflation in Germany and Spain both read zero from a month before according to their national statistics agencies, lagging analysts' forecasts for a rise in the cost of living.
With the British Pound falling to 3-decade lows after the Brexit referendum vote however, new UK data in contrast today showed
consumer prices rising 0.2% per month
for a 1.2% rise in the year-ending November, the fastest annual pace since October 2014.
Back then, 10-year government bonds offered 2.28% annually to investors.
Gilts maturing in 10 years' time today offered 1.42% per annum, cutting the real yield offered to new buyers to barely 0.2% after last month's CPI inflation.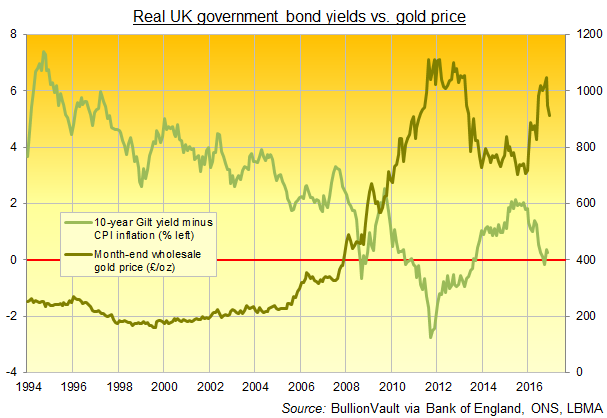 "Recent gold weakness coincides with nominal [US bond] yields at the year's highs," says a note from Swiss investment and bullion bank UBS ahead of Wednesday's near-certain Fed rate hike.
"Real yields [are] also creeping higher while US equities hold at record levels.
"[But] ultimately, we think that gold around these levels offers long-term value and would expect any further moves south to start attracting strategic investment interest."
The giant SPDR Gold Trust (NYSEArca:GLD) shrank again Monday, with shareholders liquidating GLD stock for the 19th in 25 sessions – the worst run since Spring 2013 saw the worst quarterly drop in Dollar gold prices on record.
US stock market futures pointed higher ahead of Tuesday's opening, while large-cap Eurozone equities rose for the 7th session running.
Gold priced in the single Euro currency today rallied back to €1093 per ounce, some €15 above last week's new 8-month low.
Brent crude oil meantime neared 18-month highs at $56 per barrel, despite estimates that individual member states in the Opec cartel have ramped up production ahead of January's cut in agreed quotas, aimed at boosting prices by cutting supply.
Silver rallied from a brief dip back below $17 per ounce, outperforming the gold price once more.