Gold Sellers 'Beware' as Prices Cut Steep Rally But Inflation Forecasts Hit 18-Month High
Wednesday, 12/02/2020 14:16
GOLD PRICES retreated from 6-session highs above $1830 per ounce in London trade Wednesday, cutting this weeks gains from 2.3% to 1.5% as the UK became the first Western government to approve a Covid vaccine for mass usage – starting as soon as next week – while the US Dollar fell to new 2.5-year lows amid fresh emergency stimulus talks in Washington.
"The two have not spoken since before the November 3 US election," says MarketWatch of outgoing Treasury Secretary Steve Mnuchin and Democrat House Speaker Nancy Pelosi.
With gold prices dropping to $1817 this morning, silver prices retreated 50 cents per ounce after erasing all of last week's loss at $24.30.
Copper edged 0.5% below yesterday's new 8-year high as European stock markets struggled to follow New York's new record highs overnight, but London's poorly-performing FTSE100 added 0.4%.
Shares in electric-vehicle manufacturer Tesla (Nasdaq: TSLA) meantime fell ahead of today's US stock market opening, losing more than 3% after trying but failing to recover all of Monday's 3.5% drop from Friday's fresh all-time record – a loss made on news that it will be added to US equity benchmark the S&P500 index from 21 December.
Rising by 579% since New Year, and valued at $584bn by the stock market, Tesla is
now worth more than auto-giants
Ford, GM, Hyundai, Toyota and Volkswagen combined.
Tuesday's steep rally in gold prices saw both the SPDR Gold Trust (NYSEArca: GLD) and the iShares product (NYSEArca: IAU) shrink in size, with shareholders liquidating 0.3% of the two gold ETFs in total.
Government bond prices meantime slipped again across Western markets Wednesday morning, edging 10-year US yields up to 0.92%.
Now 0.4 percentage points above early August's record low, the 10-year Treasury yield is still 6 basis points below the 8-month high it reached on Pfizer's vaccine announcement at the start of November.
Market-implied inflation rates, in contrast, today reached 1.84% on 10-year US TIPS, up by 13bps since the Pfizer news and now the highest forecast for the cost of living since May 2019.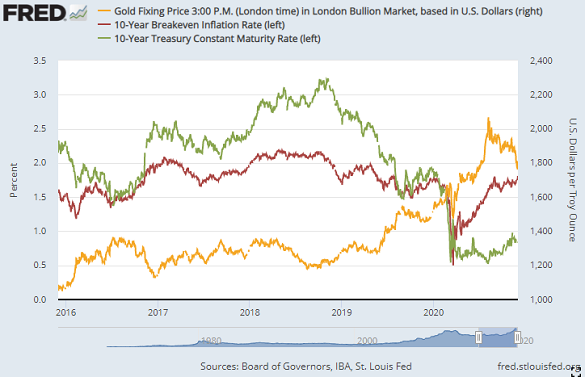 "Gold sellers should beware," says the latest monthly briefing from the precious metals team at French bank and London bullion market maker BNP Paribas.
"An effective vaccine won't preclude looser monetary policy...Furthermore, President-elect Biden has already unveiled his US Treasury Secretary. Janet Yellen is considered the perfect pick for driving the US economy out of the Covid-19 crisis through assistive fiscal policies.
"Also in the background," BNP go on, "the Chinese economy is recovering strongly" with Beijing urging stronger domestic consumption with its latest 5-year economic plan.
"In the local gold market...the price differential between Shanghai and London gold [is] narrowing [which] signals improvement in consumers' gold demand."
Wednesday afternoon's price benchmarking at the Shanghai Gold Exchange showed a $20 discount per ounce to comparable London quotes, narrowing for the week so far as the Yuan currency rallied against the US Dollar.
Beijing expects the new US administration of Joe
Biden to rebuild relations
once he takes office in January, reckons Yao Yunzhu, a senior military advisor to the politburo said today.
But "I'm
not going to make any immediate moves
," says Biden in a new interview with the
New York Times
, specifically naming the trade sanctions imposed by outgoing US President Donald Trump.
"I'm not going to prejudice my options."
Here in the UK meantime, and with most of the nation now released from a blanket 'lockdown' into tighter social restrictions than before, clothes-store Bonmarché today became the 2nd high street retailer to
go into administration
for the second time in 2 years, following the
centuries-old Debenhams
in blaming Covid lockdowns for its failure after managing to arrange a rescue only in February.