Gold Price Plunges to 5-Month Low on Black Friday as Bitcoin Sinks, Dr.Copper Soars on 'Speculation'
Friday, 11/27/2020 14:09
GOLD PRICES sank at the opening of US trade on Black Friday, falling through $1800 per ounce to the cheapest in 5 months even as the Dollar fell on the FX market and world stock markets struggled to extend this week's new record highs.
Heading for its lowest weekly close since 3 July at $1779 per ounce, gold priced in Dollars has now lost almost $300 from the current all-time high set in early August.
Silver prices also sank at Friday's US open, dropping to sudden 9-week lows after holding steadier than gold over November but now showing a $1 loss for the month at $22.55 per ounce.
Gold priced in both Euros and Sterling meantime headed for the lowest weekly close since 5 June at €1490 and £1336 per ounce, down 14.8% and 15.4% respectively from early August's record high.
Oil prices rallied after falling from this week's 8-month highs ahead as the Opec+ cartel of producer nations prepared to discuss extending 2020's steep output cuts in the hope of supporting the market.
Copper prices meantime rose to new 6-year highs, rising over 80% from March's 3.5-year low.
"Relaxing too fast and too much
is a risk for a third wave
[of Covid] after Christmas," said European Commission President Ursula von der Leyen this week as No.1 Eurozone economy Germany extended its pre-Christmas restrictions by almost 3 weeks to 20 December.
"Doubts raised over AstraZeneca-Oxford vaccine data," reports the
Financial Times
after the head of the United States' Operation Warp Speed program
questioned age and efficacy data
from the massive UK project.
But "Dr.Copper can't get enough of the rotation," says finance news-site The Market Ear, referring to the base metal's famous correlation with economic growth and the switch to 'risk on' investments recommended by many analysts following this month's raft of initally
positive news on Covid vaccines
.
"Covid is already ushering in a new era of policies aimed at social need instead of financial stability," agrees US investment bank Goldman Sachs, titling its 2021 commodities outlook "Rev'ing up a structural bull market" for industrial commodities.
Copper prices fell this spring to modern-era lows in terms of gold, rallying some 16% in terms of the "useless" precious metal even as gold has hit new all-time record highs in currency terms.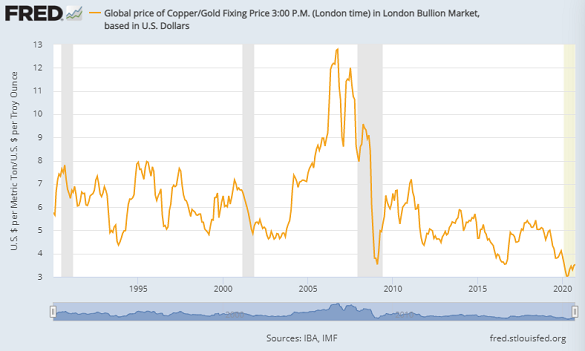 But "the physical reality of the [base] metals market is a long way off from the speculative optimism,"
Reuters quotes
London Metal Exchange broker Kingdom Futures.
"At the moment a huge surge in physical demand seems unlikely."
Copper imports to China, the world's 2nd largest economy,
rose over 40% year-on-year
in October, setting a new annual peak with two months still to go in 2020.
Last week the Shanghai International Energy Exchange launched
new copper futures open to foreign investors
, expanding China's range of copper contracts "to help enhance [its] pricing power over commodities and promote the internationalization of the Renminbi."
Shanghai gold prices today showed a discount to London quotes of $18.70 per ounce, deepening from Thursday and pulling the weekly average to $17.20 and continuing to suggest weak demand versus ample supply in the metal's No.1 mining, importing and consumer nation.
Having been shut for Thanksgiving, trading in US Treasury bonds today saw interest rates on 10-year debt fall 2 basis points to 0.86% – a new all-time low when reached in March's Covid Crash – while implied inflation rates rose to 1.78%, the highest since New Year.
So-called crypto-currency Bitcoin meantime steadied Friday after plunging 14.9% in barely 24 hours following the closure of leveraged betting on platform Coinbase "following guidance" from US derivatives regulator the CFTC.
With the rising cost of funding leveraged bets on Bitcoin reaching the annual equivalent of 107%, "Nearly $2 billion-worth of derivative positions have been
liquidated in the past 24 hours
," reported Coindesk overnight.