Gold Prices Flat as World Stock Markets Shrug Off US-China Trade 'Pessimism', Bond Yields Tick Higher
Tuesday, 11/19/2019 12:42
GOLD PRICES held unchanged for the week so far Tuesday morning in London, trading at $1468 per ounce as world stock markets extended yesterday's new record highs in US equities and major bond yields ticked higher, making Eurozone and Japanese yields less negative, amid fresh hopes for a US-China deal to cut import tariffs on each other's goods.
With pitched battles continuing between Hong Kong police and students meantime, China's state news agency today attacked the
New York Times
' release of
leaked documents ordering "no mercy"
for Uighur Muslims.
"Western anti-China forces...at home and abroad,"
says Xinhua
, "are unwilling to recognize the stable and harmonious development of Xinjiang", the province where perhaps
1 million people have been interned
in re-education camps according to the United Nations.
The MSCI World index of developed-market equities today reached its highest in almost 2 years, while the EuroStoxx 600 index touched a 4.5-year peak.
For Dollar investors overnight, gold prices retreated $10 per ounce in Asian trade from Monday's 7-session high of $1465.
US government bond prices also edged down, pushing yields higher from yesterday's 2-week lows to reach 1.62% on 2-year notes and 1.82% on 10-year debt.
Those levels marked Washington's cheapest cost of borrowing in 2 and 3 years respectively when hit during this summer's plunge in global bond yields.
Over the 10 years ending November 2018, gold prices moved in the opposite direction to US government bond yields 58.0% of the time week to week.
That figure has risen to 64.8% over the 52 weeks since then.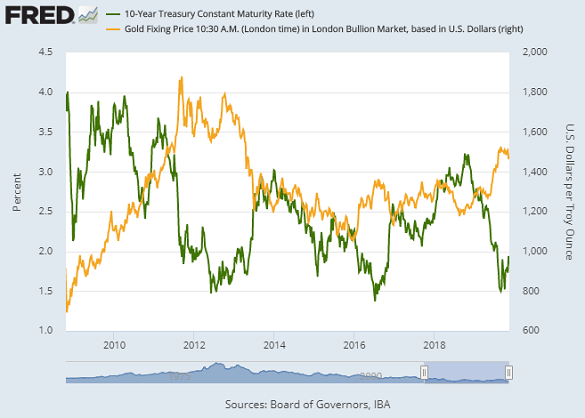 "There was a big response to the CNBC tweet on China," Reuters quotes interest-rate strategist Jim Vogel at $30bn asset managers FTN Financial in Memphis, Tennessee, pointing to Monday's claim from bureau chief Eunice Yoon that
Beijing is "pessimistic"
about the possibility of a trade deal.
"[But] until somebody just comes out and says all talks are on hold, then we're going to continue to move in a range in Treasuries," Vogel reckons, saying 10-year yields will move between 1.78% and 1.88%.
With 10-year US Treasury yields in that range, gold prices have moved between $1435 and $1505 since the start of this summer.
Gold priced in Euros meantime edged back below last weekend's level at €1328 per ounce Tuesday morning, while government bonds from the single currency's 19 member states also ticked lower in price, making German, French and Dutch yields marginally less negative.
Over in Tokyo today, "There is
plenty of scope to deepen
[short-term] negative rates from the current -0.1%," said Bank of Japan governor Hirohiko Kuroda in twice-annual testimony to Parliament.
But even with the BoJ now creating and spending ¥80 trillion ($735bn) to push up the price of 10-year Japanese government debt and so keep 10-year yields at zero, "I've never said there are no limits to how much we can deepen negative rates, or that we have unlimited means to ease policy," Kuroda went on.
Japanese policymakers "are considering" Kuroda's recent suggestion of 50-year government bonds, claims Reuters today, aiming to take advantage of low borrowing costs but also to edge longer-term interest rates higher to show confidence in the world's 3rd largest national economy.
Yen gold prices held flat Tuesday, trading 3.5% below September's near-40 year high but more than 13% higher for 2019 so far at 5131 per gram.