Gold Price Shrugs Off 'Better Than Pfizer' Covid Vaccine News as Top 2 ETFs Shrink 1st Time Since March
Monday, 11/16/2020 14:27
GOLD PRICES dropped from near a one-week high Monday lunch time in London as interest rate jumped after last week's vacccine news was followed by better-still results from separate Covid-drug trials, writes Atsuko Whitehouse at BullionVault.
US biotech Moderna (Nasdaq: MRNA) today said its Covid-19 vaccine has shown 94.5% efficacy in clinical trials, beating the 90% effectiveness claims last Monday by giant US pharma Pfizer (NYSE: PFE) and without needing the super-cold storage now spurring a race to buy medical freezer units.
Dropping to $1865 after testing $1900 per ounce, gold prices then rebounded, reaching last week's closing level of $1889.
Ten-year US Treasury yields
meantime rose 2 basis points to 0.92%, but held below the 8-month high of 0.97% reached on the Pfizer news last week.
"A vaccine with a greater than 90% rate is another form of stimulus that you have to weigh in," reckons Bob Michele, chief investment officer at US investment bank J.P.Morgan's asset management division.
Gold prices traded at $1625 per ounce last time the 10-year offered that yield in February – the first and only such time in fact, as it then marked a new record low.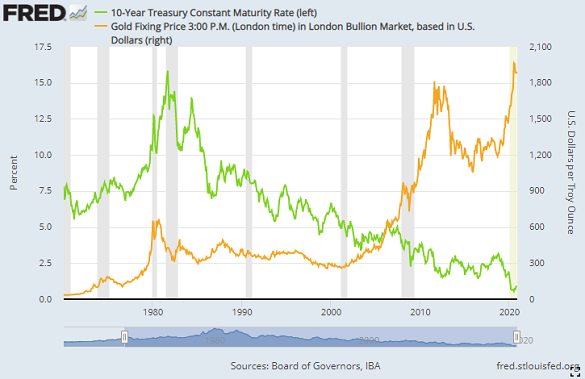 The Dollar index – a measure of the US currency's value versus its major peers – meantime rose today, recovering from 1-week lows.
Gold prices for UK investors also dropped 0.8% to £1421 per ounce while European gold prices fell 0.9% to €1583 per ounce – again falling much less steeply than they did on last Monday's vaccine news, and like the Dollar price today both then reversing this latest fall to recover last week's finishing levels.
"Interestingly ETF redemptions are ongoing and have taken some wind out of golds sails recently and we look for a clear break and hold of $1900 in the near term, or risk another test of the $1850 support," says a trading note from Swiss refining and finance group MKS Pamp earlier.
Gold-backed ETF trust funds
shrank last week, with both of the world's 2 largest such products – the the SPDR Gold Trust (NYSEArca: GLD) and the iShares gold ETF (NYSEArca: IAU) – seeing net investor outflows together for the first time since March.
The GLD saw its biggest 5-day liquidation since the Covid crash in March by losing 2.1% to need 1,234 tonnes of gold backing.
It has now declined in 10 out of the 15 weeks since gold prices hit all-time high in August, now retreating to the smallest in 3.5 month but still growth of 33% so far this year.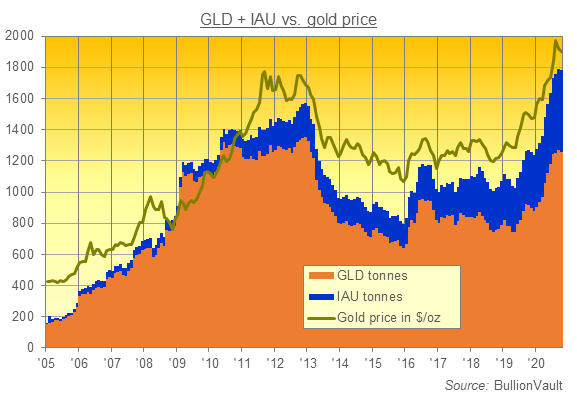 iShares' giant silver ETF trust (NYSEArca: SLV) meantime did not change in size last Friday but held a net liquidation for the week of 0.4%.
Like the GLD, the SLV has now shrunk in 10 of the 15 weeks since silver prices hit 7 year-highs in August, although it has expanded by 47% so far this year.
Prices for silver
, which finds nearly 60% of its annual demand from industrial uses, fell 1% to $23.23 per ounce after breaking above $25 in Asian trade overnight, a one-week high.
Like gold prices, the precious metals then recovered last week's closing level, trading back at $24.60.
European shares were already rising on Monday before the news, hovering near nine-month highs, after new Chinese and Japanese economic data came in stronger than expected.
Fifteen Asia-Pacific economies formed the
world's largest free trade bloc
on Sunday, a China-backed deal that excludes the United States and encompasses 30% of the global economy, 30% of the global population and reaches 2.2 billion consumers with the Regional Comprehensive Economic Partnership (RCEP) signed at a regional summit in Hanoi.
"A major breakthrough" is meantime
needed in UK-EU trade talks
, says Ireland's foreign minister Simon Coveney, to avert a "no deal Brexit" when Britain leaves Western Europe's 27-nation free trade bloc on 31 December.