Gold Prices Rally, Silver Halves 8% Plunge But Real Interest Rates Surge Fastest Since March Covid Crisis Ahead of US Election
Friday, 10/30/2020 13:48
GOLD PRICES rallied Friday in London, cutting this week's drop to less than 1% as the Dollar eased back ahead of next week's US election and Eurozone GDP came in stronger than expected, but inflation data and expectations across Western markets weakened as more countries imposed new anti-Covid rules.
Paris' streets were
jammed last night
as drivers tried to leave France's capital ahead of its new national lockdown began, while Nottingham in the English Midlands saw
crowds partying in fancy-dress
as new 'Tier 3' restictions came into place.
The EuroStoxx 600 rallied on the single currency's GDP data today, edging higher from a new 5-month low, but London's FTSE100 fell again, heading for its lowest close since start-April and erasing more than one-third of the spring's rebound from the first-wave Covid Crash.
Silver rallied with gold prices, halving the week's earlier 8% plunge to reach $23.73 per ounce, but industrial commodities slipped once more as longer-term interest rates ticked higher in the bond market.
Thursday saw 10-year US Treasury yields rise back to last weekend's level of 0.85% per annum while 10-year inflation forecasts held unchanged at 1.71%.
Together that pushed the real rate of interest up to -0.86%, its least negative since mid-July and more than one-fifth of a percentage point above the new record low of -1.08% hit on 6 August.
That day the gold price set its new all-time high of $2075 per ounce.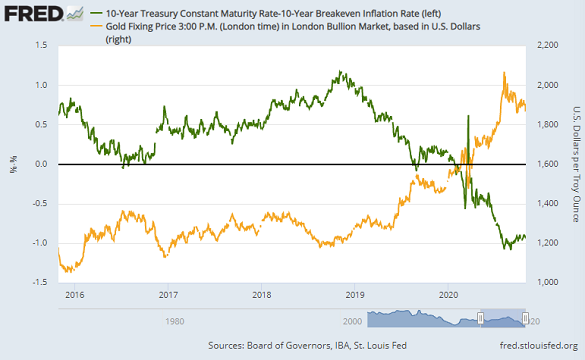 After US GDP data said the world's largest economy rebounded at a record pace in July-Sept,. expanding 33.1% at an annualized rate, the 19-nation Eurozone today said the world's second largest economic bloc also beat analyst forecasts for Q3, with output expanding 12.7% from the previous quarter's Covid Crash.
That put Eurozone GDP 4.3% below a year earlier against the 7.0% expected.
Unemployment across the 330-million citizen currency union meantime held at 8.3% in September, new data also said today, while inflation in consumer prices has held at 0.2% per year in October on the 'core' measure excluding fuel and food.
US inflation on the 'core' PCE measure today missed analyst forecasts for September, edging up only to 1.5% per year.
"Sharp acceleration of the epidemic...clear increase in deaths...very significant increase in hospitalizations," says the latest weekly update from Santé Publique in France – a nation now also at "war against Islamist ideology" according to interior minister Gerald Darmanin following Thursday's knife killings.
Yesterday's drop to 4-week lows in the Dollar gold price saw giant gold-backed ETF the SPDR Gold Trust (NYSEArca: GLD) hold unchanged in size at the smallest since mid-September, heading for a second consecutive weekly decline.
Competitor
gold ETF
the iShares Gold Trust (NYSEArca: IAU) meantime shrank by 0.1%, but held on track for a 6th weekly expansion.
Over in China – the world's No.1 gold consumer market, where
investment demand rallied in Q3
while jewelry stayed very weak – last night's low gold prices saw benchmark prices on the Shanghai Gold Exchange cut their discount to global quotes to $26.50 per ounce, the smallest since 22 July, as the Yuan strengthened against the Dollar.