Gold Prices -$20 as Bond Yields Rise Ahead of 'Discounted' Fed Rate Cut, ETF Surge 'Slows to Trickle'
Tuesday, 10/29/2019 13:59
GOLD PRICES erased the rest of last week's gain on Tuesday in London, extending the drop as world stock markets also struggled after yesterday's steep rise in longer-term interest rates ahead of this week's key Federal Reserve decision on Dollar borrowing costs.
Gold in Dollar terms fell below $1485 per ounce, down $20 for the week so far, as 5-year US Treasury yields held near Monday's pop to 6-week highs at 1.65% per annum.
The UK meantime looked set for an early December election, as the opposition
Labour Party said it will back the Conservatives
' call for a snap poll to try and resolve Brexit after Prime Minister Johnson got an extension to 31 January for membership of the 28-nation European Union.
London's FTSE stock index fell as Sterling stalled almost 2 cents below last week's 5-month highs above $1.30, helping support
the UK gold price in Pounds per ounce
at £1154, down 1.5% for the week so far.
The gold price in Euros meantime lost 1.3% from last weekend's level, slipping to €1338 as the single currency tried new 2-week lows against the Dollar, losing 0.7% from last week's 2-month highs.
Adjusted for market-based inflation forecasts, the real yield on 5-year US debt has risen for a second month running in October, the first such run since this point last year.
On a week-to-week basis, the price of gold has moved in the opposite direction to real 5-year US Treasury yields fully two-thirds of the time since this point a decade ago, in October 2009.
That has risen to 83% of the time over the last 12 months.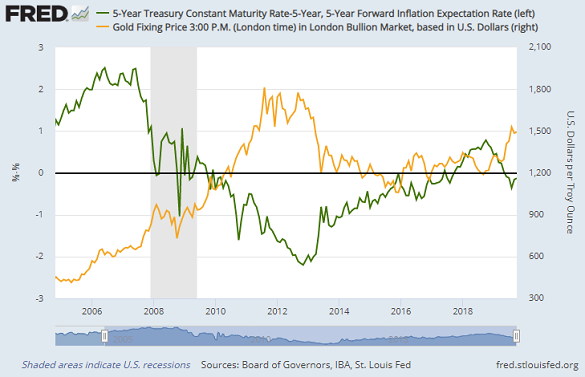 "The market has already discounted a 25 basis point cut" from the Fed tomorrow, Reuters quotes research analyst Sandeep Joon at India brokerage SMC, "but further guidance is very important on whether they will cut in the December meeting."
Betting on US Fed Fund futures contracts now puts the odds of a cut to 1.75% at more than 36 in 37, the highest since the dead-cert projected for October's Fed decision back in February.
Gold prices were then struggling to hold a rise above $1300 per ounce.
Wholesale bullion bars today traded 14.3% higher in US Dollar terms, and 16.2% higher from 8 months ago for Euro investors.
"If ETFs were a central bank they would now be the 4th largest holder, behind the IMF and in front of Italy," says Rhona O'Connell in her daily precious metals note for brokerage INTL FC Stone, commenting on 2019's surge of investment money in gold-backed trust fund products such as the SPDR Gold fund (NYSEArca: GLD).
But now inflows to gold ETFs have "dwindled dramatically" in October, O'Connell adds, "slowing to a trickle."
"The outflow from US equity funds this year has [meantime] been the biggest since [the global financial crash of] 2008 relative to the flood of money into cash and bonds," says Bloomberg, quoting US investment bank Goldman Sachs' analysis of private-investor allocations.
Actively managed stock-market funds have suffered $217 billion of outflows, while bond funds have seen inflows of $353bn according to Goldman strategist David Kostin.