Democrat Clean Sweep 'Better for Gold Prices' Than Trump 'But a Close Thing' on Covid Stimulus Bill
Thursday, 10/22/2020 14:13
GOLD PRICES fell Thursday in London, erasing four-fifths of this week's earlier $30 gain versus a volatile Dollar, with US Covid stimulus discussions still ongoing ahead of tonight's final presidential debate between Donald Trump and Joe Biden.
New data showed a surprise fall in the number of people claiming US jobless benefits, while UK industrial orders also showed less weakness in the economy than analysts expected.
But after the US Senate
voted against a "skinny" stimulus deal
worth $100 billion on Wednesday, "the [final] bill on this is probably going to be higher than I want," said Florida Republican Marco Rubio to CNBC today.
With Trump reportedly favoring a $1.8 trillion stimulus against Biden's $2.2bn, "a Democrat clean sweep" winning the White House, the Senate and the Congress would probably prove "the most positive US election outcome for gold prices, said precious-metals analyst James Steel of bullion bank HSBC on an
LBMA webinar today
, "but it's a close thing.
"Trump also wants a big fiscal package, narrowing the difference between him and a Biden presidency."
Deficit spending and monetary stimulus are "pivotable macro dynamics" for gold agreed London bullion market-maker Standard Chartered's Suki Cooper, also speaking to the London Bullion Market Association in today's presentation.
"We think the Dollar is going to continue weakening in the longer-term, but we might see some strength around the election, especially on a hung result.
"That would provide an opportunity for those who want a long position in gold."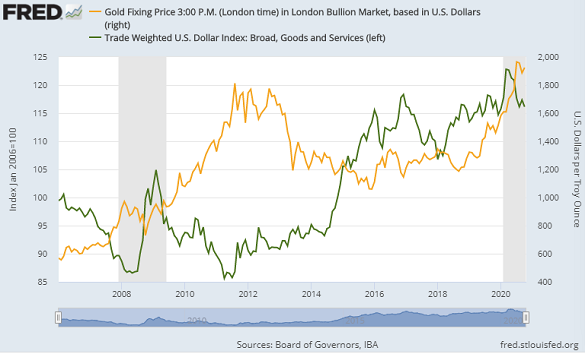 Gold priced in the Dollar has fallen into 7 of the last 10 presidential elections from 1 month before, and then risen over the following month 5 times.
Gold has also tended to perform worse than its 4-decade average on a 12-month basis either side of White House ballots too, averaging 0.4% losses going in and then 2.0% losses on the other side according to analysis by BullionVault.
With Dollar prices falling to trade just $5 higher for the week at $1905 per ounce as New York opened for business on Thursday, Euro gold showed a €10 drop at €1611, and
live gold prices in Pounds per ounce
traded £15 down from Sunday night at £1465.
In Spain – where the right-wing
Vox Party today lost a vote in parliament
seeking to remove Socialist prime minister Pedro Sánchez from the ruling coalition over his handling of the pandemic –"the second wave is out of control," said Spain's health minister Salvador Illa this morning, threatening to impose localized curfews as registered cases since January topped 1 million cases.
Ireland on Monday became the first European nation to re-impose full lockdown, a 6-week effort meaning people may then be able to celebrate Christmas "in a meaningful way" according to Taoiseach Micheal Martin.
While gold prices are rising long-term, said independent analyst Ross Norman concluding today's LBMA webinar, the US election "might just put a break in its stride."