Gold Prices Gain $20, Retreat $15 as Dollar Flips on Stimulus Hopes, ETFs Expand, Sterling Gains on Brexit Chatter
Monday, 10/19/2020 15:14
GOLD PRICES rose and then fell back against a volatile US Dollar on Monday in London, gaining $20 per ounce and then giving back $15 amid hopes for a coronavirus vaccine and new US stimulus ahead of the White House election, while both the British Pound and Euro currency strengthened on signs Britain will compromise on Brexit, writes Atsuko Whitehouse at BullionVault.
Peaking at $1918, spot gold prices then slipped to $1905 but continued to hold a recovery from last week's 0.9% loss against the Dollar.
Gold prices for UK and Eurozone investors in contrast traded sideways at £1470 and €1622 per ounce respectively after a report that the British Government is preparing to revise its controversial 'Internal Markets Bill' to try finding a compromise with EU negotiators ahead of end-December's final full exit from the single market.
"We expect gold to trade cautiously around $1900 level for now, the game changer being whether we can get [US] fiscal stimulus in the next 48 hours," Reuters quotes Howie Lee, an economist at OCBC Bank in Singapore.
US House Speaker Nancy Pelosi said on Sunday that a deal between her Democrat Party and Republican politicians including US President Trump remains possible before the 3 November election, albeit with a deadline of tonight.
Ahead of the weekend's new development in those US stimulus talks, the giant SPDR Gold Trust (NYSEArca: GLD) saw further net selling by investors on Friday, shrinking 0.3% after losing 0.1% in the previous session.
While that meant the GLD expanded 0.1% last week as a whole, it has now shrunk in 6 out of the 11 weeks since gold and GLD prices hit their current record high in August, and the trust fund's backing in bullion remains 6% smaller than its record size of end-2012.
In contrast, world No.2 gold ETF the iShare Trust (NYSEArca: IAU) expanded by 0.7% last week, reaching a new record size 3 days in a row.
On a weekly basis the IAU – a cheaper
gold-backed ETF
than the GLD, and now 40% of its size – has not shrunk since gold's lockdown sell-off in March.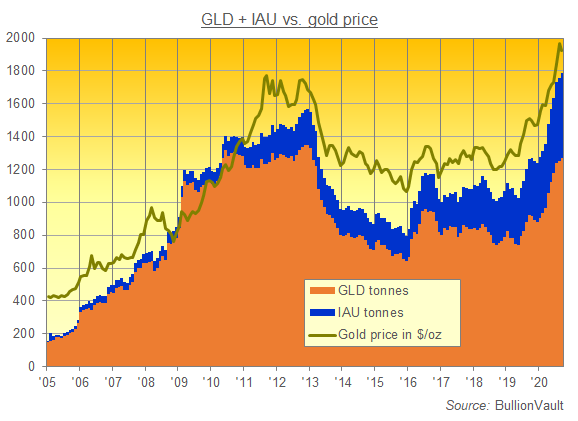 Data for the week-ending last Tuesday meantime show that hedge funds and other speculative traders cut their bullish view of gold to the weakest in 16 months in Comex futures and options.
Net of bearish bets, the Managed Money cut its position in gold derivatives to the equivalent of 372 tonnes, according to figures reported to US regulator the CFTC, down 8.5% from the week before to the smallest net speculative long since June 2019.
Net betting on Comex silver also eased back, dropping to an 8-week low some 5% smaller than the 12-month average.
iShare's giant silver ETF trust (NYSEArca: SLV) meantime grew by 0.6% last week but it was only the second weekly gain since August, when silver prices peaked at a 7-year high.
While the SLV's massive backing has shrunk 2.3% from mid-August's fresh all-time record, it has
offset this year's steep reduction
in household demand for silver jewelry, bars and coins according to analysis published by the Washington-based mining-backed Silver Institute.
Gold jewelry demand in India, the metal's No.2 consumer nation, plunged in the first half of this year to 118 tonnes because of Covid-19's impact on household budgets, the Economic Times reports.
That contrasts with average full-year demand of 582 tonnes in the previous 5 years, but dealers now expect a rally – especially with the key Diwali festival next month – with India's domestic price discount London quotes
shrinking to just $1 per ounce
in Mumbai and Ahmedabad on Friday, down from a steep $44 early last month.
Gold prices in China, the metal's No.1 consumer nation, steadied Monday at ¥403 per gram, also cutting the discount relative to London, now down to $27 per ounce – the smallest since July – and also indicating a pick-up in domestic gold buying demand as the Yuan currency strengthens to its firmest since April 2019 against the Dollar.
China's gross domestic product grew 4.9% in the third quarter from a year earlier, official data said today, slower than forecast but faster than the previous quarter, with sentiment aided by strong gains in industrial output and an acceleration in retail sales.
Silver prices
meantime jumped 2.6% to $24.79 per ounce Monday morning after making a modest increase of 0.4% last week, while platinum rose 1.4% to $878 per ounce to erase more than a half of 2.1% loss made last week.