Gold Edges Up as US-China Trade Hopes Fade while the Global Precious Metals Industry Meets in Shenzhen, China
Monday, 10/14/2019 15:15
GOLD PRICES rose Monday after two consecutive lower sessions as China wants more talks before signing "phase one" deal while key precious metals industry players from across the globe gather at the LBMA's 2019 conference in Shenzhen, writes Atsuko Whitehouse.
Spot gold went up 0.2% to $1492 per ounce this early afternoon having shed 1% last week. The US Dollar index – tracking the greenback against a basket of other currencies – held flat albeit 1% below the new high for 2019, achieved 2 weeks ago.
China wants further talks at the end of October to hammer out the details of the "phase one" trade deal touted by President Donald Trump before Xi Jinping agrees to sign it, Bloomberg reports Monday morning.
On Friday, President Trump outlined the first phase of a deal - which he called "very substantial" - to end the trade war with China and suspended a threatened tariff hike set for 15th October. Existing tariffs implemented in September however were not rolled back and plans for another hike just before the Christmas holiday on 15th December remain in place.
"While the negotiations do appear to have produced a fundamental understanding on the key issues and the broader benefits of friendly relations, the Champagne should probably be kept on ice, at least until the two presidents put pen to paper," wrote
China Daily
, the official Chinese state-owned English newspaper.
As the US-China trade war drags on, China's exports fell 3.2% in September, the biggest fall since February, while total September imports fell 8.5% after August's 5.6% decline, the lowest since May and contracting for a fifth straight month, according to the data published on Monday.
"2019 has so far been a tough year for Chinese jewellery," said Metals Focus from LBMA/LPPM 2019 Precious Metals Conference, which is currently held in Shenzhen - one of the most important centres for precious metals demand in China - until Tuesday.
"Our projections see gold jewellery consumption falling by 6% to 645t. Fabrication is seen taking an ever bigger hit and is forecast to fall by 8% in 2019, to 684t. Platinum jewellery demand is expected to suffer a yet bigger decline of 12%, to 27.4t this year. Our outlook for 2020 sees some relief for local demand, with a smaller decline for both gold and platinum."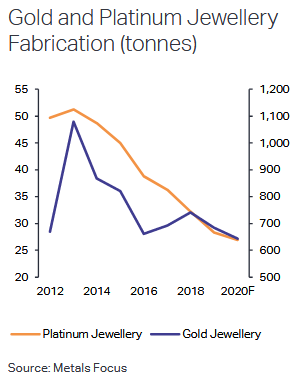 Shanghai gold prices fixed on Monday with an incentive for new bullion imports into the world No.1 consumer nation to the equivalent of $8 per ounces premium to London quotes. The average for the last week was just above $7 per ounce, the lowest for a year.
"It's no secret however that China's huge gold jewellery demand is struggling in 2019, thanks to a slowdown in household incomes and a drop-in consumer confidence, spurred by the economic risks from China's argument over trade with the US. But that same trade war – and the uncertainty it's causing – is doing wonders for gold investment demand",
noted
Li Tao of Ping An Bank.
"And China's young personal finance industry can only add to that demand as it grows, because the case for gold – as a safe haven, hedging the risks across your savings – means asset managers and advisors are sure to recommend some level of exposure," Tao continued.
Gold prices for UK investors went up 1% to £1190 per ounce this Monday lunch time after the pound dropped from a 3-month high during the previous two days, as the prospects of an imminent Brexit deal appears less likely.
The European Union's chief Brexit negotiator Michel Barnier said that the UK's proposals for a deal lacked detail, putting both sides in a race against time to finalize an accord ahead of the EU summit on Thursday. The prime minister's coalition allies, Northern Ireland's Democratic Unionist Party, also expressed reservations about the plan.
In the meantime, the Queen's Speech opened a new session of the UK Parliament this Monday morning as Elizabeth II set out the government's legislative agenda. Without a majority in the House of Commons, UK Prime Minister Boris Johnson has a difficult task in seeing his plans turned into legislation. The Prime Minister is pushing for an early general election and Monday's policy package is likely to form the skeleton of his manifesto for that campaign.
Gold prices for European investors edged up 0.3% to €1353 per ounce as stocks in Europe dropped after recording its best weekly performance since February.
European Union foreign ministers on Monday weighed possible penalties against Turkey, world No.5 gold consumer nation, while stepping up warnings about greater Middle East instability as a result of Turkey's military operation in Syria.
President Bashar al-Assad sent Syrian troops to the north after the Kurdish command for the northeast said it had been forced to strike a deal with Damascus in the face of the rapid Turkish advance.
President Donald Trump reiterated on Monday that "big sanctions on Turkey" are coming and that the US is "not going into another war with people who have been fighting with each other for 200 years."
Brian Kilmeade over at @foxandfriends got it all wrong. We are not going into another war between people who have been fighting with each other for 200 years. Europe had a chance to get their ISIS prisoners, but didn't want the cost. "Let the USA pay," they said...

— Donald J. Trump (@realDonaldTrump) October 14, 2019
He suggested that the Kurds may be releasing prisoners "to get us involved."
US markets are closed on Monday for the Columbus Day holiday and Japanese markets are also closed for a public holiday.