Gold Prices Rise on Soft US Data, Worsening Trade War, 'Deflationary' Risk in Eurozone
Thursday, 10/03/2019 15:00
GOLD PRICES jumped at the start of US trade Thursday, hitting $1515 per ounce as world stock markets fell after US data showed the jobs market softening and service-sector growth slowing in September.
The ISM's index of non-manufacturing activity erased August's rise on worries over trade tariffs.
Payrolls provider ADP said Wednesday that US jobs growth slowed by 15% month-on-month in September.
Last week's data for US jobless benefits claims today came in higher than analysts forecast.
Friday brings the official monthly estimate of non-farm payrolls from the Bureau of Labor Statistics.
"Gold's overdue correction is not a reversal in fortunes," says a note from analyst Nicky Shiels at Canadian retail, investment and bullion bank Scotia, pointing to this week's earlier 2.5% drop.
"This purge of fast money and weak longs is a necessary development for the longer-term health of the structural gold trade. [Indeed] the argument some have made was that the retracement wasn't deep enough.
"Dips remains a buying opportunity [with] plenty of upcoming event risk including NFP on Friday, trade talks next week [and then the US Fed's] October FOMC."
Euro gold prices also rose in late London trade, hitting €1380 – a new record high when first reached in late-August – before easing €5 back.
The MSCI World index of global equities, in contrast, has lost 2.8% for the week so far.
Chinese trade negotiators will visit Washington next week, led by vice-premier Liu He, just before the deadline set for extra tariffs on $250bn per year of Chinese goods.
The US today claimed success in a 15-year case at the World Trade Organization against the European Union over the 28-nation bloc's
subsidies to planemaker Airbus
, made in the form of cheap loans and putting US maker Boeing at a disadvantage.
The US will now impose tariffs on $7.5bn of EU goods from olive oil to aircraft and single-malt whisky. The EU is expected to retaliate in kind.
The likelihood that the US Fed won't cut its key interest rate at its next meeting – ending on the last day of October – has now halved from this time week ago, says the CME derivatives exchange, falling from one-half to less than 1-in-4
according to betting
in the Fed Funds Futures market.
Thursday meantime saw the UK's FTSE100 index of mostly international companies fall again after dropping more than 3% on Wednesday, its worst day since the start of 2016.
Germany's Dax index today lost 2.8% by lunchtime in Frankfurt, erasing the last of September's steep rally.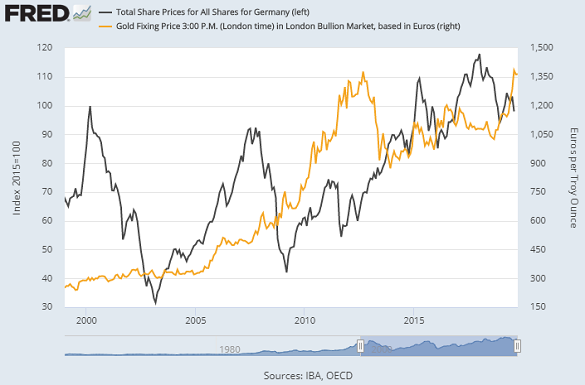 "This is
the markets unequivocally insisting
that there be verifiable, material progress in next week's trade talks," the
New York Times
quotes one brokerage's strategist on the sharp fall in global equities.
In the Eurozone, "The market is again starting to attach some
probability to a deflationary recession
," says another analyst, pointing in the plunge in 5-over-5 breakeven rates – a key measure tracked by the European Central Bank – back towards June's record lows.
Copper prices Thursday led other commodities lower, dropping within 1% of August's 2-year lows as crude oil slipped to trade over $10 below last month's spike to $63 per barrel following the
drone attack on key Saudi processing plants
.
With the authorities in Hong Kong set to ban facemasks in the protest-torn city, reports of scuffling between pro- and anti-Beijing Chinese worldwide continue to spread, now including
Vancouver
in Canada and
Sheffield
, England.
The
UK gold price in Pounds per ounce
held flat as Sterling rose Thursday, trading £5 lower for the week at £1214 after UK Prime Minister Boris Johnson suggested his Brexit proposal to the European Union – keeping Northern Ireland inside some aspects of the single market to try and avoid a 'hard border' with EU member Eire –
could see further compromises
to push for a deal before the current deadline of Halloween.