Gold Prices Rise for Non-US Investors as Dollar Recovers 'Impeach Trump' Drop
Wednesday, 9/25/2019 15:09
GOLD PRICES slipped $10 from yesterday's 3-week highs in London on Wednesday, before rallying from $1525 as world stock markets fell – and bond prices rose, pushing interest rates lower – following the US Democrats' move to impeach President Trump.
The US Dollar recovered the 0.5% drop it made on yesterday's news, rising to its strongest since early September against a basket of other major currencies.
Trump meantime said he will
prove his innocence
by releasing a transcript of the disputed phonecall with Ukraine's leader Zelensky – a call in which an intelligence staff "whistleblower" claims the President asked for an investigation into former vice-president and possible 2020 Democrat candidate Joe Biden.
Calling for an "impeachment inquiry", the Democrats lack the votes needed to push for formal proceedings at this stage.
The impeachment is critical for the markets in one sense -- that China now has no incentive to reach a trade deal if it ever did. This is actually bullish -- for bonds!

— David Rosenberg (@EconguyRosie) September 25, 2019
After Trump said yesterday he won't accept a "bad deal" on trade with China, Beijing moved Wednesday to
import more US farm produce
in what news reports called "a gesture of goodwill" by exempting certain goods from extra tariffs.
Silver held flat against the rising Dollar meantime, trading above $18.50 per ounce, but platinum edged down to a small loss for the week so far at $940.
Wednesday's strength in the Dollar helped gold prices hold firmer for non-US investors, with the cost of buying gold in Euros rising 1.1% for the week so far at €1391 – just 1.5% below this month's new all-time high.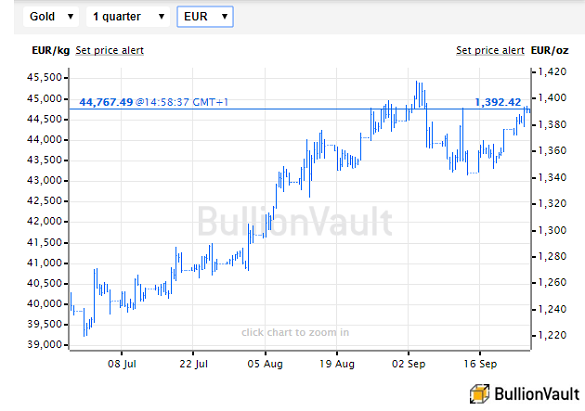 "Outsized positioning across most 'trade hedge' havens (bonds, gold, silver etc) and a stronger US Dollar explains part of [gold's] inability to capitalize and reprice back toward recent highs," says the latest bullion analysis from Canada's Scotiabank.
"[Such] saturation certainly poses some short-term downside risk, but a structural driver (geopolitical escalation) has been renewed which puts the target back on $1600 gold [and over] $20 silver."
Neither the SPDR Gold Trust (NYSEArca: GLD) or iShares Gold ETF (NYSEArca: IAU) saw any change in size on Tuesday, leaving the number of shares issued in New York's 2 largest such investment funds at a 3-year and record high respectively.
But adding some 48 tonnes so far this month, the quantity of bullion needed to back all the world's gold ETF trust funds has swollen to more than 2,780 tonnes – less than 0.5% below the record peak of December 2012.
Open interest in Comex gold futures and option contracts was already at new record highs, Tuesday afternoon's $20 price rise saw the day's total trading volume in those derivatives rise 23% from Monday to reach the most in almost 2 weeks.
"While we think the gold market pauses for a while," agrees analyst Bart Melek at Canadian brokerage TD Securities, "the gold rally should continue to take prices into the $1600s."
The gold price in British Pounds meantime rose to £1236 per ounce, some 3.5% beneath September's new all-time high, as Parliament re-opened to angry exchanges following
yesterday's historic defeat
for the Government of Boris Johnson's Conservative Party in the Supreme Court over proroguing the Houses of Commons and Lords too close to the current Brexit deadline of Halloween.
Now promising a second referendum should it win the next election, the opposition Labour Party today passed a motion promising to give all foreign nationals living in the UK
the right to vote
.
The UK's June 2016 referendum on EU membership saw Brexit win by a margin of 1.27m votes.