Gold Prices 'Driven by Negative Real Rates' as Covid Surges in France, UK's No-Deal Threat 'Blindsides' Sterling
Friday, 9/11/2020 13:51
GOLD PRICES headed for their second weekly gain of the last month on Friday, trading around $1945 per ounce – a new record high when first reached in late-July – as longer-term interest rates ticked higher, European governments moved to re-impose anti-Covid rules, and global stock markets held flat following another drop in US tech stocks.
Euro gold prices also showed a small weekly gain at €1640 as the 19-nation currency consolidated near 18-months to the Dollar after the European Central Bank
failed to add any new monetary stimulus
in yesterday's policy announcement.
While the ECB "discussed the appreciation of the Euro," said Christine Lagarde in a press conference, "as you know we don't target the exchange rate."
"A rebound in the US Dollar index sent gold prices lower following the ECB's neutral tone," Reuters quotes a currency strategist.
But while the path of the US Dollar's exchange-rate value remains important, said James Steel, chief precious metals analyst at bullion market-maker HSBC, in this week's public webinar from the London Bullion Market Association on Thursday,
the "primary driver" now
is that "Gold is really following real yields.
"If we're going to see continued monetary easing, it's likely that gold is at least going to be well-supported.
"This is a very compelling chart."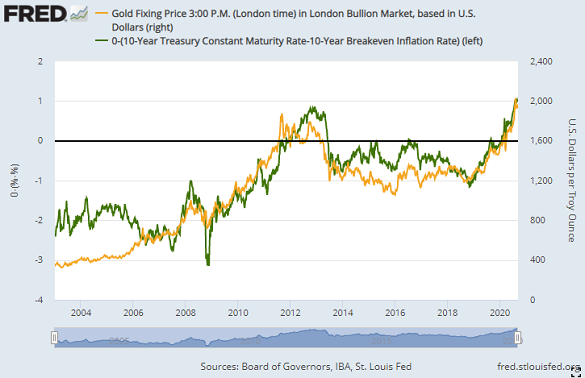 Although 10-year US Treasury bond yields edged higher today, they held at worse than 1.00% below the 10-year outlook for annual inflation – the most negative real rate since the early 1980s when reached in late July.
On a 3-monthly basis, that puts the r-coefficient of gold against real 10-year rates at -0.97, the strongest inverse correlation since September 2019's near-perfect -0.99 record.
Other gold-market analysts agree with Steel on real rates according to
a survey of professional forecasters
by the LBMA this week, with the outlook for negative US yields overtaking US Dollar weakness as the No.1 driver of gold prices, named by 28% versus 24% of respondents, with the US Presidential Election coming third at 20%.
"Covid was not named in the top three," says the LBMA's note on the survey, "finishing a game fourth with special mention of the economic impact of an effective vaccine."
Having
spent years claiming
that standard childhood vaccinations cause autism, US President Trump yesterday accused Joe Biden, his Democrat opponent in November's White House election, of spouting "
reckless anti-vaccine rhetoric
" as the reality TV real-estate mogul seeks to give emergency approval to possible Covid immunity drugs.
France's chief medical officer meantime says the government needs to make "a number of difficult decisions" on new restrictions as the rate of new cases in the Eurozone's second-largest economy
surges to fresh all-time highs
.
"[Gold was] already in a well-entrenched bull market" before the Covid Catastrophe hit in early 2020, Steel at HSBC also says, pointing to "geopolitical risks, trade risks, and ultra-low interest rates...all of which has been intensified this year, along with the increase in fiscal spending.
"Gold is receiving 2 of the ingredients it needs for a rally, which are debt and liquidity...this combination really is very, very powerful. [It] isn't going to stop on a dime."
With gold priced in US Dollars showing a 0.6% gain for the week Friday lunchtime in London, Euro gold prices stood 0.5% higher.
In contrast,
the UK gold price in Pounds per ounce
traded 4.1% above last weekend's level, holding at £1515 after touching mid-August levels at £1528 on Thursday – some £50 per ounce below the metal's current all-time high in Sterling terms – amid the Johnson Government's threat to break international law and ignore key parts of the EU Withdrawal Agreement unless the European Union concedes to its free-trade deal demands.
"Sterling traders relaxed on Brexit trade risks," said the
Financial Times
two weeks ago
, reporting that "options markets suggest no flash points ahead" for the world's No.4 reserve currency.
"The British Government may [now] blindside Sterling holders by carrying out its threat" of a no-deal exit, a column at Bloomberg said Thursday.
"The Pound could be in for a nasty surprise...setting the scene for a decline that would dwarf its recent losses as the economic and political repercussions of a full-strength hard Brexit start to sink in."
The UK Government on Friday made its
first significant post-Brexit trade deal
, agreeing terms with Japan that will boost trade between the world's 3rd and 5th largest economies "by an estimated £15.2 billion" ($19bn).
UK exports to Japan were worth 5% of exports to European Union members last year.