Gold Price Hits Fresh UK and Euro Highs as Brexit Rebels Fight No.10, German Factories Prepare for 'No Deal'
Tuesday, 9/03/2019 15:02
GOLD PRICES set new record highs for British Pound and Euro investors on Tuesday as both currencies fell yet again amid worsening economic data and the looming UK deadline for quitting the European Union "deal or no deal" according to new Prime Minister Boris Johnson.
Dollar gold prices in contrast struggled at 3-session highs around the $1535 level – formerly
key support for bullion
between its 2011 peak and 2013 crash – as the US currency rose to new multi-year highs on the FX market.
A court in Edinburgh today
started hearing a legal challenge
to UK Prime Minister Boris Johnson's plan to suspend Parliament ahead of next month's Halloween Brexit deadline.
"[Conservative] rebels seem v confident they have numbers to take control of the agenda later, votes might not be til 10pm,"
says the BBC
, reporting on a cross-party move to introduce and vote on a bill effectively making 'no deal' illegal.
Dipping below $1.20 this morning for the first time since October 2016, when Sterling ended its crash from that June's Brexit referendum result, the Pound today came within half-a-cent of its lowest Dollar value since the mid-1980s.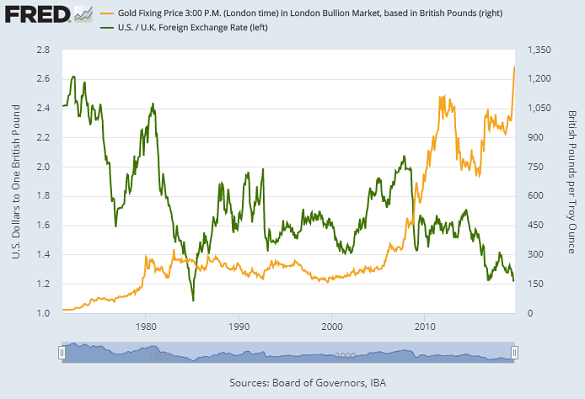 "With all the troubles in the world, from US-China trade relations to the Brexit brinkmanship, we've
found a terror-trifecta trade
to be pretty attractive," says US bank Wells Fargo Asset Management's Brian Jacobsen, pointing to a bet on gold and government bond prices rising while stock markets fall.
European equities fell again on Tuesday as Eurozone government bond prices rose, driving interest rates lower on German, French and Netherlands debt.
Gold priced in the Euro meantime rose above €1400 for the first time, gaining 1.6% for this week so far.
With Germany's manufacturing sector already reporting a contraction every month in 2019 so far, "The German economy is preparing for a hard exit from the EU by Britain," reports the country's FAZ financial newspaper.
After new data on Monday said UK factories suffered their worst slump this summer since 2012, new orders in the construction sector
fell at the fastest pace for over 10 years
in August, said the IHS Markit/CIPS survey this morning, with output down for the 4th month in a row with optimism at the worst since the global financial crisis of end-2008.
Left-wing Labour Party leader Jeremy
Corbyn last night rejected a plea
from former PM Tony Blair not to fall into Johnsons' "elephant trap" of calling for a General Election.
Former UKIP and now
Brexit Party leader Nigel Farage
meantime said he wouldn't field candidates against the Conservatives if current PM Johnson guarantees a no-deal exit.
Two things becoming clear. Deselection threat has hardened resolve of rebels. And decision to make tonight's vote issue of confidence has scared off a number of pro-Brexit Labour MPs from backing the government.

— (((Dan Hodges))) (@DPJHodges) September 3, 2019
"
This is my party
, I've been a member [of the Conservatives] for 45 years," said ex-UK finance minister Philip Hammond on BBC radio this morning, vowing "to defend my party against incomers, entryists who are trying to turn it from a broad church into a narrow faction" – a reference to Johnson's chief advisor
Dominic Cummings
, who has yet to confirm his membership either way.
But "I don't think any sane person should be considering" voting against no deal, says Northern Ireland DUP MP Sammy Wilson.