'Surprising' Move in Gold Price Above $1800 as Real Rates Rise, Stocks Rebound Before Jackson Hole
Monday, 8/23/2021 15:04
GOLD PRICES broke above $1800 per ounce for the first time in over 2 weeks on Monday, trading higher as the Dollar retreated on the currency market and global stocks and commodity prices rallied after last week's sell-off ahead of the Jackson Hole central-bank symposium starting this Thursday, writes Atsuko Whitehouse at BullionVault.
Spot gold prices jumped nearly $25 per ounce to touch $1805, extending last week's gains.
Despite the weak Dollar however – down more than 0.3% on its trade-weighted index after reaching new 2021 highs amid last week's "risk off" drop in commodity and equity markets – gold also rose sharply in other currencies, reaching 3-week highs in the Euro at €1537 and 5-week highs for UK investors at £1318 per ounce.
"Looking at the move in real Treasury yields over the past week, gold's resilience
is a bit surprising
," says John Reade, chief market strategist at the mining industry's World Gold Council, pointing to a sharp drop in the price of inflation-protected US TIPS driving the interest rate they offer new buyers higher.
Rates on inflation-protected debt rose further on Monday, pushing the 10-year TIPS yield up above minus 1.01% per annum, a 1-month high.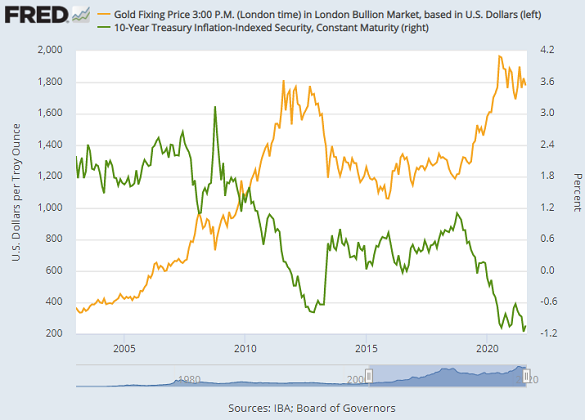 Latest data show that hedge funds and other leveraged speculators in Comex gold futures and options grew their bullish betting by 9% on gold as a group in the week-ending 17th August, and cut their bearish betting by 21% from a 26-month high.
Overall, that grew the net long position of Managed Money traders by 52%.
Speculators cut their net bullish betting against silver however, reducing it by 18%, according to the data published by US regulator the Commodities Futures Trading Commission (CFTC) while that group also maintained a net short position against fellow industrial-precious metal platinum, albeit cutting it by 40%.
Platinum – which finds two-thirds of its demand from industrial uses, led by auto-catalysts – jumped as high as 2.6% to $1023 per ounce, after dropping 3.4% last week. It hit a new 2021 bottom at $964 last Thursday.
Prices for silver also climbed sharply, erasing two-thirds of last week's 3.2% drop to reach $23.55 per ounce Monday lunch time in London.
Oil prices overnight hit their lowest level since 21st May in early Asia trade, but then snapped a 7-day losing streak as Brent crude climbed 3.2% to $67.19 per barrel.
Asian markets also advanced, with Hong Kong's Hang Seng index bounced back after slipping into 'bear market territory' last week on the Delta Covid variant and China's tech crackdown.
European stocks rose from their worst week since February as the Stoxx 600 Index added 0.5% by lunch time.
"Ultimately the focus is on the Jackson Hole symposium and the next non-farm payroll numbers, which will be
very crucial for the market
," said Jigar Trivedi, commodities analyst at Mumbai-based broker Anand Rathi Shares.
Former Fed chair and now Treasury Secretary Janet Yellen yesterday endorsed Powell for a second term as chief of the US central bank, due to start in 2022 if approved by the Biden White House.
Ahead of the meeting, Dallas Fed President Robert Kaplan said Friday he's
open to adjusting his view
that the Fed should start tapering its asset-purchase program sooner rather than later if the Delta strain persists and hurts economic progress.
"The market may also conclude that the virus-related turnaround in consumer sentiment since that meeting may cause the FOMC to think twice before hitting the taper button," says derivatives platform Saxo Bank's commodity strategist Ole Hansen.
"An example of this was seen in New Zealand last week where a Covid-19 outbreak led to renewed lockdowns and the cancellation of an expected rate hike by the Reserve Bank of New Zealand."