'Bulls Now Driving' But Gold Price Slips Below $1500 Amid China, Germany Stimulus Hopes
Monday, 8/19/2019 15:14
GOLD PRICES slipped below $1500 in London trade Monday as global stock markets rose on fresh hopes of stimulus from Germany and China, while US President Trump said US and China are "talking!" about resolving their trade war, writes Atsuko Whitehouse at BullionVault.
Spot gold prices fell 1.2% to $1498 per ounce as the Dollar index, which measure the greenback against a basket of six other major currencies, steadied near Friday's 2-week high.
"There's a sense of calm right now because the stimulus story is supporting the Dollar against safe-havens, but I'm
not sure how long this calm will last
," reckons Takuya Kanda, research manager at Japanese derivatives broker Gaitame.
While hedge funds and other leveraged speculators in Comex gold futures and options reduced their net bullish position as a group by 2.5% in the week-ending last Tuesday, it remained the 4th heaviest bet in 13 years of data.
The largest gold bullion backed ETF, the SPDR Gold Trust (NYSEArca:GLD), meantime saw investor demand for the shares grow for the 3rd week running, up 0.4% to need 843 tonnes of bullion backing.
Last time gold prices traded at last week's finish of $1515 the GLD was more than one-third larger, needing 1158 tonnes of backing just as the Spring 2013 gold crash began.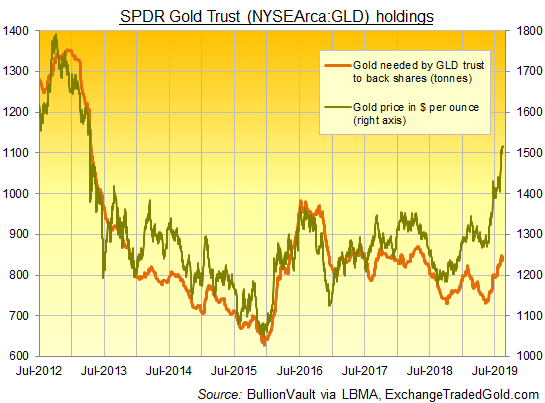 "Bullish investors are driving price action for the first time in 2 years," says Nicky Shiels of Canadian retail, investment and bullion bank Scotiabank, pointing to "fresh ETF & gross speculative longs (not short covering).
"Hong Kong's protests, Italy's unlikely coalition government unravelling & Argentina's default risk soaring after primary elections, merely adds geopolitical & political fuel to some of the core drivers that emerged this summer."
European stock markets rose sharply on Monday however, with Frankfurt shares leading a recovery from last week's six-month lows after Asian equities also climbed.
Hong Kong's Hang Seng gained 2.2% following the 11th weekend of mass protests against Chinese interference in the city state.
On the mainland China's Shanghai Composite rallied 2.1% after the People's Bank of China (PBOC) on Saturday unveiled long-awaited reforms for helping keep actual borrowing costs in the world No.2 economy in line with PBoC policy rates, plus new support for businesses hit by weak domestic demand and the now year-long trade war with the Trump administration.
Germany's right-left coalition government's finance minister Olaf Scholz then said on Sunday that Berlin has the fiscal strength to counter any future economic crisis "with full force", suggesting it could spend an extra €50 billion ($55bn) this year.
This week will end with the US Federal Reserve hosting its annual central banking conference in Jackson Hole, Wyoming, where Fed chairman Jerome Powell is widely expected to confirm further US rate cuts ahead.
Despite saying that
trade talks are progressing
with China, US President Trump at the weekend called Chinese tech giant Huawei
a "national security threat"
and also connected negotiations with the ongoing situation in Hong Kong for the first time in public, saying that a deal between the US and China would be harder if there's a violent conclusion to the continued civilian protests.