Gold 'Needs to Price In' US Military Manoeuvres Near China as Inflation Fears Rise, Bond Yields Don't
Wednesday, 8/19/2020 13:46
GOLD PRICES fell back through $2000 per ounce Wednesday morning, dropping to $1981 in Asian trade as major stock markets ticked higher everywhere but China – now seeing US military manoeuvres near neighbors Taiwan and Japan – and longer-term bond yields failed to keep pace with inflation expectations, cutting real US interest rates back towards August's new 21st Century lows.
The
Dollar Index steadied
at yesterday's fresh 2-year low, keeping the exchange-rate value of the world's No.1 reserve currency 1/10th below the 4-year high it hit against the world's other major currencies during March's Covid Crash in global stock and commodity markets.
For US investors, gold prices today traded 4.4% below this month's new record high of $2075.
Euro gold prices held above €1660, trading some 4.8% below their latest peak of €1748 per ounce.
"We see real rates falling again," says analyst Giovanni Staunovo at Swiss asset-manager and bullion bank UBS, "[because] there is
an increase in inflation expectation
probably related to the aggressive fiscal stimulus measures", meaning the massive deficit spending now underway to fight the Covid-19 pandemic and the economic collapse caused by anti-virus shutdowns and social distancing.
"Negative real interest rates [are]
a key trigger for gold
's continuing rally," agrees an editorial in Money Control in India – the metal's No.2 consumer nation – saying that the sub-continent's inflation rate of almost 7% "should worry all households...especially those investing in fixed-income instruments."
US bond prices today edged the yield offered by 10-year debt up to 0.65% per annum, but inflation expectations rose faster, reaching the highest since January at 1.71%.
That pushed the inflation-adjusted yield on 10-year US Treasury bonds back down to -1.06% – only just above the new 21st Century low set 2 weeks ago as gold prices hit that new all-time high above $2000 per ounce – after spiking to -0.94% last week.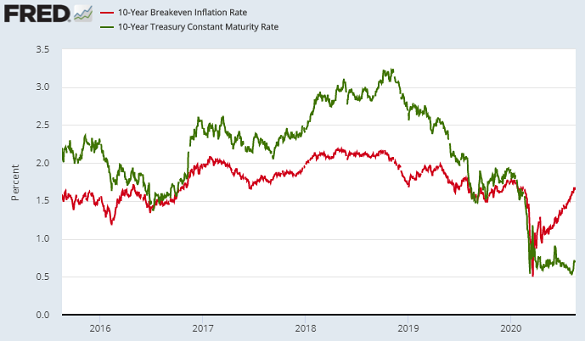 Over the 12 months to mid-July, the real interest rate offered by 10-year US Treasury bonds plunged by 2 whole percentage points as yields sank, even as market-implied inflation forecasts jumped from March's crash.
That was the fastest 12-month drop since December, and matched the pace of decline in late-2011, when gold prices set their prior record at $1920 per ounce.
As
real rates sank gold prices jumped
meantime at their sharpest 12-month pace since hitting that previous peak 9 years ago, rising by 39.2% in US Dollar terms since this point in summer 2019.
Stating its "commitment to
a free and open Indo-Pacific
" meantime, the US Pacific Fleet today sailed its guided-missile destroyer USS Mustin through the Taiwan Strait, the 110-mile wide strip of sea separating world No.2 economy China from the island nation Beijing still claims as part of its sovereign territory, 75 years after the end of WW2.
US forces have also joined Japanese naval, heavy bomber and fighter jet exercises this week, making another "implicit message to China"
according to the Japan Times
.
Beijing is now sending its top diplomat, Yang Jiechi, to visit Singapore and South Korea for talks including international security and the region's response to the coronavirus pandemic.
"Gold has already had to price in trade worries," Bloomberg quotes commodity strategist Christopher Louney at Canadian financial services group RBC Capital Markets, "but some of the more recent escalating issues bubbling between the US and China are just beginning to be priced in.
"We think politics and geopolitics together are the real under-appreciated upside risks for gold in the coming quarters."
China's CSI 300 share index today lost 1.5%, bucking a broader 0.5% rise in Asian and European equities.
Over in the US on Wednesday – where former vice-president Joe Biden was confirmed as the Democrat Party's challenger to President Donald Trump in this November's White House election – December gold futures showed a premium over London bullion prices of $7 per ounce, up from zero at yesterday's price peak at $2015.
Silver futures for September settlement meantime traded 10 cents above
London's spot bullion silver price
, retreating 2.5% from Tuesday's peak at $28.12 per ounce – over $1.50 below 7 August's spike to the highest since spring 2013.