Gold Regains $1500 as Fears Continue over US-China Trade War & Escalating Hong Kong Protests, while Comex Records the 2nd Biggest Bullish Bet in 13 Years
Monday, 8/12/2019 14:13
GOLD PRICES rose back over $1500 per ounce as Hong Kong airport authorities cancelled flights over anti-government protests while concerns still mount over a prolonged US-China trade dispute, writes Atsuko Whitehouse at BullionVault.
Spot gold increased by 0.6% to $1506 per ounce this Monday lunchtime, the Dollar Index – a measure of the US currency's value versus its major peers – edged higher 0.05%, while the yield on 10-year US Treasuries fell six basis points to 1.69%.
Hong Kong's Airport Authority has cancelled all departure flights that were not yet checked in as thousands of protestors occupy the terminal, following another weekend of clashes with police. A Chinese official said, "These acts jeopardise Hong Kong's rule of law and social order" and that there were signs of "terrorism."
Street protests across the Chinese territory stretched into their tenth week on Monday.
Goldman Sachs Group Inc said on Sunday that fears of the US-China trade war leading to a recession are increasing and that they no longer expect a trade deal before the 2020 US presidential election.
On Friday US President Donald Trump said, "We are talking to China. We are not ready to make a deal, but we'll see what happens." He then continued "China wants to do something, but I'm not doing anything yet. Twenty-five years of abuse. I'm not ready so fast."
Latest data shows that hedge funds and other leveraged speculators in Comex gold futures and options increased their bullish betting on gold 23% to the notional equivalent of 886 tonnes, the 2nd biggest net bullish positions ever recorded in 13 years in the week-ending 6th August. It has only exceeded this once before in the week-ending 5th July 2016, according to US regulator the CFTC.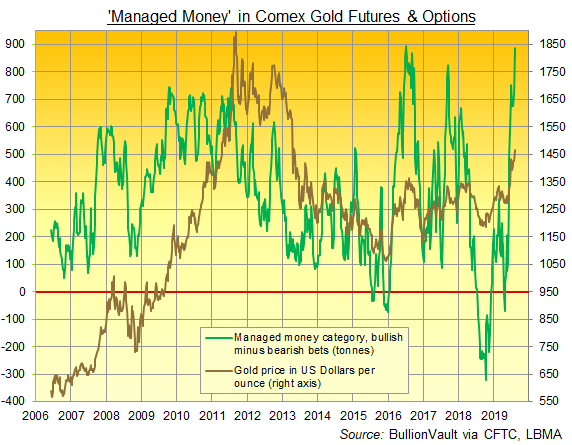 Open interest in Comex gold derivatives also rose last week to the highest total ever, extending its jump above the equivalent of 1 million futures contract, each trading the notional value of 100 ounces.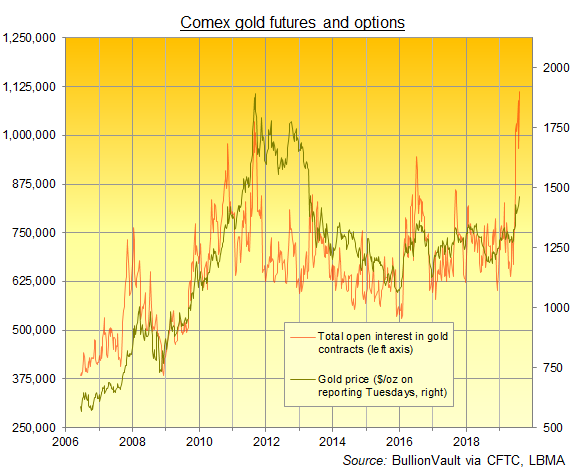 Investing in the giant SPDR Gold Trust (NYSEArca: GLD) – the world's largest gold-backed ETF fund – also increased 1.1% last week, needing 840 tonnes of backing. SPDR Gold Trust holdings have increased 5.8% since the end of June 2019.
According to the latest report published last Thursday by World Gold Council (WGC), global gold-backed ETFs and similar products had $2.6 billion of net inflows across all regions in July, increasing their collective gold holdings by 52 tonnes to 2,600 tonnes – a level not seen since March 2013.
WGC said, "Last month's flows continued the positive trend that had started in mid-May as uncertainty rose – whether from economic concerns, trade tensions or geopolitical risks – and global monetary policy started to shift to a more accommodative stance."
Gold prices for European investors in the meantime rose 0.6% as the Euro weakened vs most of major currencies with Italian political uncertainty and concerns about the health of Germany's economy continuing.
UK gold prices edged higher by 0.2% as Sterling rebounded from a 31-month low recorded last Friday, after the UK's economy shrank for the first time since 2012 in the second quarter of the year.