Gold Slips, 'Needs New Catalyst' as Record-Low Real Rates Fail to Stir Prices
Monday, 8/02/2021 14:12
GOLD PRICES edged lower on Monday despite real interest rates on US government debt – against which bullion tends to move inversely – trading near all-time lows as global market focus on America's latest jobs data, due out this coming Friday, writes Atsuko Whitehouse at BullionVault.
Spot gold prices fell 0.3% to $1808 per ounce Monday morning in London, giving back almost half of the last week's gain.
"Gold continues to struggle
despite strong tailwinds
from near-record low real yields," says derivatives platform Saxo Bank's commodity strategist Ole Hansen.
Conventional 10-year US Treasury yields – a benchmark rate for government as well as many finance and commercial borrowing costs – steadied today at the lowest level since February.
Rates on inflation-protected debt fell further however, pushing the 10-year TIPS yield down below minus 1.16% per annum, a new series low when first reached last week.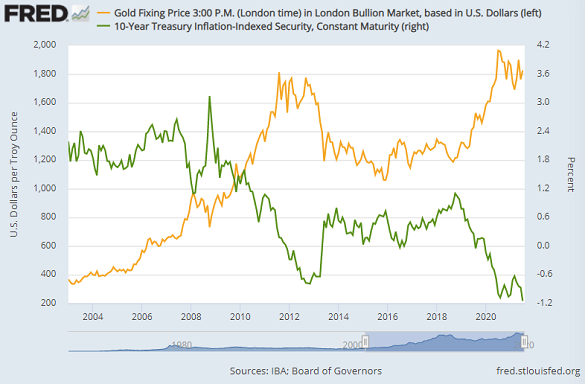 The Dollar Index – a measure of the US currency's value versus its major peers – today shed part of Friday's advance from 1-month lows on the FX market after the Federal Reserve confirmed it is no hurry to taper its monthly QE bond purchases or raise overnight interest rates.
That leaves traders thinking that "
free money will keep flowing
for even longer" according to analysts, helping European stock markets rise on Monday as Asian markets stabilized after hitting their lowest so far in 2021 last week, with China's crackdown on the tech and education sectors hammering stocks, while the spread of the Delta variant of the coronavirus in the region hit growth.
For gold prices, "A new bullish catalyst is required, and shortly, once the current event-risk is over, for prices to revisit newer territory [around] $1900," cautioned a trading note from Swiss refining and finance group MKS Pamp earlier Monday.
"The market has increasingly respected the adage that what can't go up, must come down."
China's factory activity growth slipped sharply in July as demand contracted for the first time in over a year according to today's new Caixin/Markit Manufacturing Purchasing Managers' Index, falling to the weakest level since April 2020.
China is now confronting its broadest Covid-19 outbreak since coronavirus first emerged there in late 2019, with the Delta variant spreading to places that had been virus-free for months, including the original epicentre of Wuhan.
Crude oil prices fell Monday after two weekly increases, with West Texas Intermediate shedding 1.2% after rising 2.6% last week.
Prices for silver
, primarily an industrial metal, edged higher by 0.1% to $25.51 per ounce.
The strength pushed
the Gold/Silver Ratio
– which tracks the two formerly monetary metals' relative prices – down further to just under 71, the lowest value for gold versus silver in weeks.
Platinum – which finds two-thirds of its demand from industrial uses, led by auto-catalysts – rose 1.5% to $1067 per ounce, recovering last week's drop.
Friday's US jobs data is forecast to show a 900,000 increase in July's non-farm payroll numbers, pulling the unemployment rate down to 5.7%.
"If the jobs report comes in much better than expected, say over 1 million, then the tapering debate will start all over again and the gold market will probably react with a big fall," says a note from Bruce Ikemizu, chief director of the
Japan Bullion Market Association
.
"If on the other hand employment does not improve as expected, then gold may well rise towards $1850."
Staying in the US, a $550 billion infrastructure package is getting closer to passing the Senate this week, while the US debt ceiling – the legally approved maximum for Washington's borrowing –officially became operative again on Sunday after a two-year suspension.
Without action by lawmakers to suspend or raise the ceiling yet again, the US is on a path to technical default as early as October.