Gold Price Challenges 2011 Dollar Peak, 'Inflation Returns At Last!' Say Analysts
Monday, 7/20/2020 15:10
GOLD PRICES edged higher again Monday in London, holding $100 shy of the all-time 2011 peak in US Dollar terms as investors eyed EU negotiations over the bloc's historic €750 billion of Coronavirus pandemic stimulus and global infections of Covid-19 rose to set a new weekend record, taking the worldwide total past 14.4 million with more than 600,000 deaths, writes Atsuko Whitehouse at BullionVault.
Gold prices registered their highest weekly close in US Dollar terms since September 2011 at last Friday's LBMA Gold Price benchmarking, fixing at $1807 per ounce.
That also marked gold's 6th straight weekly gain, making a rise of 19.6% year-to-date.
Spot gold prices today climbed 0.2% to $1814 per ounce as the Dollar weakened, pulling its value versus other major currencies down to the lowest since mid-March.
Silver prices
meanwhile jumped over 2.1% to $19.75 per ounce, a new 4-year high.
That pushed the Gold/Silver Ratio of the two formerly monetary metals down below 93, the lowest value for gold in terms of silver since the end of February.
The gray metal has now gained an astounding 68% from its March low near $12, but shows only a year-to-date gain of 9%.
"Some investors seem to think inflation is
finally making a comeback
after a long absence," says Michael Mackenzie, the
Financial Times
' senior investment commentator, pointing to demand for Treasury inflation-protected securities.
Investors poured more than $5 billion into mutual funds holding Tips in the week ending July 8, reversing outflows seen during
the Covid deflation panic
of March and April.
With returns adjusted to account for moves in consumer prices, demand for 30-year Tips has been so strong that the annual yield offered to new buyers today sank below minus 0.30% according to Bloomberg data.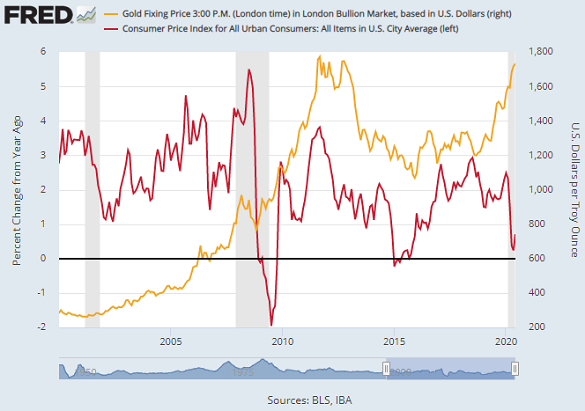 "For the first time in 40 years, we believe
we may now have to face up
to the corrosive power of inflation," says Teun Draaisma and Ben Funnell, co-portfolio managers at hedge fund giant Man Group's DNA team.
"Attempting to protect portfolios could mean buying not-so-liquid inflation-linked securities and floating-rate bonds; pursuing value and momentum strategies in equities; and purchasing commodities, gold in particular."
Gold-backed ETF trust funds also continued to expand last week, as both the SPDR Gold Trust (NYSEArca: GLD) and the iShares gold ETF (NYSEArca: IAU) saw additional investor inflows mark their 16th consecutive week of new growth.
"[Inflation] is going to happen, so we need to be ready for," reckons Merryn Somerset Webb, editor-in-chief of UK magazine MoneyWeek.
"It takes
a very, very long time
to get proper inflation going but [then] it is almost impossible to stop without really nasty stuff happening...We need to hold gold obviously."
In contrast to Dollar gold prices, UK gold prices edged down 0.1% on Monday, reaching £1483 per ounce, as the Pound rallied a little from last week's 1.5% drop on the FX market.
Bullion for European investors meantime slipped 0.2% to €1581 per ounce today as the Euro strengthened to a 4-month high versus the Dollar and Eurozone bond spreads – the gap between the highest and lowest yields offered by different member states' debt – narrowed to the smallest since March, as EU leaders made progress in negotiating a historic stimulus package after three days of haggling.
The Netherlands, Austria, Denmark, and Sweden are satisfied with a little over half of the proposed €750bn pandemic relief fund being made available as grants, with the rest coming as low-interest loans according to unnamed EU officials.
The US Congress is also set to begin debating a new aid package this week to counter the economics effects of the pandemic.
With central banks typically targeting 2.0% annual inflation, growth in the cost of living last month held at 0.6% per year in the US and UK, 0.3% in the 19-nation Eurozone, and
2.5% in China
according to official estimates.
Platinum prices
also surged as silver rose against the Dollar on Monday, adding 1.3% to $849 per ounce and recovering 48% from its March low near $571 but still down 12% year-to-date.