Gold Remains Firm above $1400, Industry Body Reports Gold as Best Performing Asset in 2019
Friday, 7/12/2019 15:37
GOLD PRICES edged higher Friday after Federal Reserve Chairman Powell's dovish comments this week while World Gold Council report states that gold has become one of the best performing assets this year, writes Atsuko Whitehouse at BullionVault.
Spot gold increased 0.3% to $1408 per ounce this Friday lunch time. Gold was up 0.7% for the week and up 10% in 2019.
Gold prices for UK investors are up 0.4% this week after hitting a 8-year peak in the previous session as the British pound climbed to the strongest in more than a week. UK gold prices are 12% up so far this year.
The Euro gold price edged up 0.2% this week and is up 12% so far in 2019.
The yield on 10-year Treasuries increased to 2.14%, the highest in the month, while the US Dollar index, which tracks the greenback against a basket of other currencies, dipped 0.1% - its lowest reading in more than a week.
"As investors looked to balance higher stock prices with an increasingly uncertain environment, gold prices surged, making gold one of the best performing assets by the end of June," says the latest report published Thursday by the World Gold Council (WGC).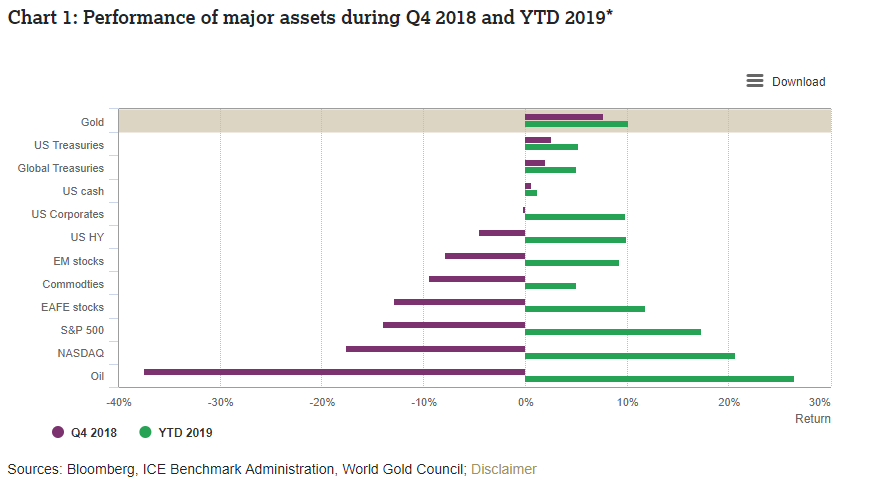 "Financial market uncertainty and accommodative monetary policy will continue to support gold investment demand over the next six to twelve months," it noted.
On the second day of congressional testimony, Chairman Powell told the Senate Banking Committee on Thursday, "the relationship between unemployment and inflation became weak" about 20 years ago, suggesting that the central bank has room to ease monetary policy.
Stocks in Europe climbed after the S&P 500 index closed at a record high and the Dow Jones broke above 27,000 points for the first time on Thursday.
Asian shares were mixed after the latest data from both Singapore and China showed the impact of trade tensions between China and US.
Gross domestic product in Singapore shrank 3.4% in the second quarter from the previous three months, the biggest decline since 2012. China trade figures showed exports fell 1.3% in June from a year ago and imports were down 7.3%. Economists polled had forecast a decline of 3.8%.
Meanwhile US President Donald Trump complained on Twitter:
Mexico is doing great at the Border, but China is letting us down in that they have not been buying the agricultural products from our great Farmers that they said they would. Hopefully they will start soon!

— Donald J. Trump (@realDonaldTrump) July 11, 2019
Oil prices climbed to their highest level in more than 7 weeks on the threat of tropical storms and geopolitical tensions.
Oil companies in the Gulf of Mexico are cutting production because of Tropical Storm Barry and the market remained on edge as tensions continued to simmer in the Middle East.
The UK government has brought forward plans to send a second warship to the Gulf amid rising tensions with Iran.
Tehran on Friday said that Britain was playing a "dangerous game" after last week's seizure of an Iranian tanker on suspicion it was breaking European sanctions by taking oil to Syria.