Gold Price Erases Shanghai Discount as China's Post-Covid Oil Demand Sets Record
Monday, 6/08/2020 15:09
GOLD PRICES edged higher from multi-month lows on Monday in London as crude oil climbed after the Opec+ cartel agreed to extend output cuts and world No.2 economy China reported record oil imports for last month, writes Atsuko Whiteshouse at BullionVault.
Spot gold prices in London today rose 0.6% to $1695 per ounce before slipping $5 back, erasing only a little of
Friday's 1.6% drop
towards 2-month lows after official US data said the world's largest economy actually added 2.5 million jobs in May, rather than losing 8m as analysts forecast.
Euro gold prices edged 0.4% higher to €1498 as European stock markets slipped following news that Germany's industrial production took a record hit in April.
British Pound gold prices
rose 0.5% to £1337 per ounce after the UK – the worst Covid-hit nation in Europe – recorded its lowest excess daily death toll since lockdown began, while thousands of people joined Black Lives Matter protests across the country.
"Friday's gold-market reaction was exactly in line with theory but it left an impression
the downward pressure was limited
," reckons Koichiro Kamei, a financial and precious-metals analyst in Tokyo, looking at the US jobs data.
With US oil futures hitting 2-month highs today as China reported a
record monthly import of crude
– up 19.2% from May last year – data from Beijing's government-approved China Gold Association meantime said the metal's No.1 consumer nation saw the strongest household gold buying in 3 months in May.
Gold prices on the Shanghai Gold Exchange today cut this spring's historic discount to global trading and storage hub London still further, reducing the gap to $2.80 per ounce – the smallest in near 13 weeks – after showing the smallest weekly average in 11 at $11.40 per ounce.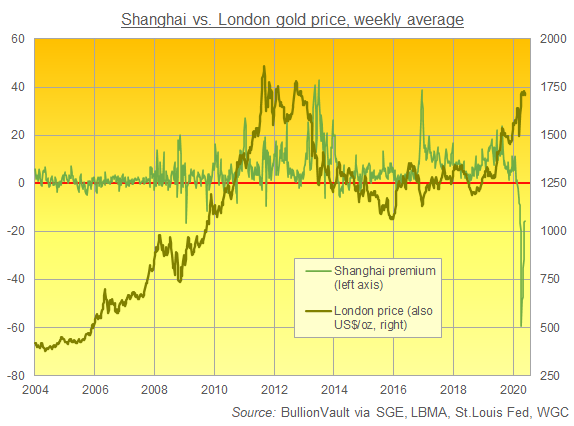 Gold delivered in Shanghai has historically traded at an average premium at $6 per ounce according to data published by the mining industry's World Gold Council – effectively an incentive for new bullion imports into the metal's No.1 mining, import and household consumer market.
Since the Covid-19 pandemic begin in Wuhan around New Year and then struck other cities in Hubei Province at the end of January, that premium flipped to a record discount, hitting $60 on the weekly average in the middle of April.
In contrast to China, discounts offered by gold dealers in India, the No.2 bullion consumer nation, last week widened again, out to the highest in about two months.
Discounts on gold in India
widened to $32 an ounce
beneath official prices, which include 12.5% import duty and 3% sales tax. Even though jewellers reopened stores in some parts of the country, physical demand was weak. Gold imports in May plunged 99% in May from a year earlier.
Although China's gold imports through Hong Kong flipped in May to a net export for the first time since records began in 2007, China's domestic consumer gold sales jumped 54% in May compared with a month earlier, according to a state TV report last week, citing the China Gold Association.
Chinese
gold ETF products
– enabling investors to track prices without owning any metal – grew 22.9% in May says the latest World Gold Council data, adding 13.1 tonnes and leading Asian funds to contribute the record global gold ETF inflows of 154 tonnes.
The giant US-listed SPDR Gold Trust (NYSEArca: GLD) however saw its second consecutive outflow on Friday, shedding 4.1 tonnes after adding 67 tonnes last month.
Cheaper US competitor the iShares gold ETF (NYSEArca: IAU) also recorded its first outflow in 2 months as gold prices fell on Friday, reducing by 1.8 tonnes after expanding 20 tonnes in May.
Latest data also show that hedge funds and other leveraged speculators in Comex gold futures and options cut their bullish betting still further last week, down to a 1-year low net, but left their bearish betting unchanged.
Overall, that pushed the net long position of Managed Money traders to the smallest since June 2019 as total open interest in Comex gold derivatives also dropped to a 1-year low.
Silver prices today rose 1.6% to $17.68 per ounce, paring last week's loss and exceeding the pace of gold.
That kept
the Gold/Silver Ratio
– which tracks the two formerly monetary metals' relative prices –just below 96, the lowest premium for gold versus its cousin in 3 months.
Platinum prices
also climbed Monday, recovering most of Friday's drop by adding 2.0% to $837 per ounce.