Gold Price Up, Dollar Down as ETFs Snap Run of Investor Selling
Monday, 5/23/2022 14:13
GOLD PRICES rose Monday morning in London, extending the first weekly gain 5 after gold ETFs saw investor inflows as the US Dollar fell to 1-month lows, writes Atsuko Whitehouse at BullionVault.
Stock markets rose after US President Joe Biden said he was weighing cutting trade tariffs on China while asking Saudi Arabia and other Opec oil cartel members to boost output amid the Western sanctions against Russian supplies over Moscow's invasion of Ukraine.
Spot gold prices
rose 0.7% to an 8-session high at $1860 per ounce having recorded the first weekly advance in 5 weeks.
Gold-backed ETF trust funds expanded last Friday, with both the SPDR Gold Trust (NYSEArca: GLD) and the iShares gold ETF (NYSEArca: IAU) seeing net investor inflows.
That meant the GLD
gold ETF
grew 2 days in a row, sealing its first weekly inflow in four, after liquidating without any growth since 19 April.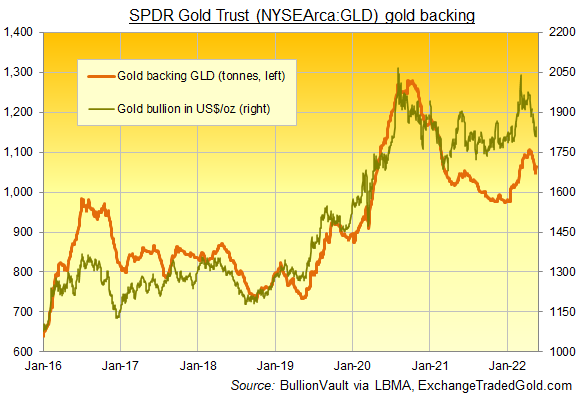 The IAU meanwhile also saw its first inflow since 9 May.
In the week-ending last Tuesday in contrast, latest data show that hedge funds and other leveraged speculators in Comex gold futures and options cut their bullish betting still further on gold as a group and grew their bearish betting.
Overall, that pushed the net long position of Managed Money traders down for the 5th week in a row to the smallest in nearly 8 months.
Speculators also cut their net bullish betting against silver to near neutral for only the second time in the last 3 years, according to the data published by US regulator the Commodities Futures Trading Commission (CFTC).
The
price of silver
, primarily an industrial metal, rose 1.8% on Monday to £22.16 per ounce, the highest 2 weeks.
Platinum, which finds two-thirds of its demand from industrial users, led by auto-catalysts, also jumped 2.4% to $976 per ounce, near 2-week high.
Palladium – of which Russia is the No.1 miner – climbed 3.3% to $2033 per ounce.
Longer-term interest rates meantime held firm Monday, with benchmark US 10-year Treasury edging higher but holding well below this month's 3.5-year high after falling for 3 sessions in a row.
European stocks were higher on Monday, with the pan-European Stoxx 600 climbing 1.1% and US equity futures pointing higher after the Dow Jones Industrial Average fell for its 8th straight week, the longest weekly losing streak since 1923.
The S&P 500 and the Nasdaq also posted their seventh straight week loss last week, which is the longest slump since the Dotcom Bubble burst in 2001.
The S&P 500 sat 19% off its record high while the Dow was down 15.4%. The Nasdaq was already deep in bear market territory, down 30% from its high last Friday.
"I don't think we have reached rock bottom yet, it's
a bear market rally
," reckons Michael Hewson, chief markets analyst at spreadbetting platform CMC Markets.
"The [stock] market is still pretty concerned about sticky inflation."
The Dollar Index – a measure of the US currency's value versus its major peers – retreated to a 4-week low Monday below 103 after Biden's comments about reducing tariff on Chinese goods during a visit to Japan on Monday.