'Bleak Outlook' Sees Gold Price Set New Records Outside the US Dollar
Monday, 5/18/2020 14:55
GOLD PRICES climbed to the highest US Dollar value in nearly 8 years and set fresh all-time highs against most other major currencies on Monday as central banks warned of a protracted economic slump from the Virus Crisis, with more 'extraordinary' monetary policy needed to offset it, writes Atsuko Whitehouse at BullionVault.
Spot gold prices jumped 1.1% from Friday's close to hit $1762 per ounce this morning, the highest since September 2012, before easing back.
Prices for European and UK investors climbed 1.4% to €1633 and 1.4% to £1458 per ounce respectively, while the Swiss Franc price broke its 2011 peak to reach CHF 1716.
Gold futures contracts in Tokyo also soared, up 1.7% to ¥6084 per gram, the highest since the Tokyo Commodity Exchange (Tocom) started trading in 1982.
Physical gold for Japanese investors meantime became the most expensive ever,
topping
January 1980's peak when today's consumption tax is included to reach ¥6712 per gram according to Japan's biggest gold retailer Tanaka.
Japan's economy had already fallen into recession as the March crisis began, new data showed Monday, as the world's third-largest economy contracted an annualised 3.4% in the first quarter.
Germany's Bundesbank on Friday called the economic outlook a "bleak picture" in its latest
monthly report
.
Jerome Powell, the US Federal Reserve chair,
said Sunday
that the United States would have a slow recovery from what he called the "biggest shock that the economy's had in living memory," suggesting that a full rebound from virus-induced lockdowns could take until the end of 2021, depending on how quickly a vaccine can be delivered.
Both Congress and the central bank may need to do more to help workers and businesses, said Powell.
Here in London, the Bank of England's chief economist Andy Haldane
meantime said
negative interest rates could be on the cards to try help easing the economic slump caused by the anti-pandemic lockdowns and job losses.
The Pound headed for a sixth session of declines on the FX market today.
"Given all of this chaos and confusion, it is hardly surprising that gold ETFs are seeing an unchanged high level of buying interest," analysts at Commerzbank said in a note.
"If speculators were now to jump on the bandwagon too, gold would rise quickly towards the $1800 mark."
Gold-backed ETF trust funds expanded its holdings for 16th straight day on Friday according to Bloomberg, as both the SPDR Gold Trust (NYSEArca: GLD) and the iShares gold ETF (NYSEArca: IAU) recorded an 8th straight week of growth.
The giant SPDR Gold Trust increased 25% this year to 1113 tonnes, the highest in 7 years, while the cheaper gold-backed ETF competitor the iShare Gold Trust grew 20% so far, the highest in the record, needing 434 tonnes.
Latest data show that hedge funds and other leveraged speculators in Comex gold futures and Options increased their bullish betting less than 1% on gold as a group in the week-ending 12 May, while rose their bearish betting by 148%.
Overall, that cut the net long position of Managed Money traders to the smallest in 6 months.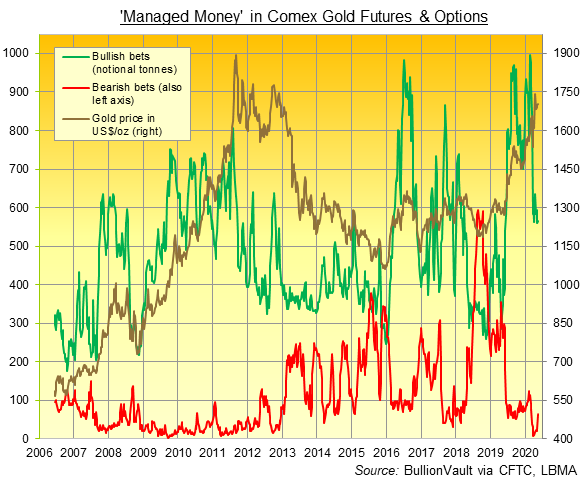 Gold prices in China – the metal's No.1 consumer market – also rose to new record highs Monday, gaining 2.5% in Yuan terms to fix this morning in Shanghai at ¥399 per gram.
Thanks to that rise, plus the Yuan falling on the currency market, that left Shanghai's benchmark price at $16 per ounce below London quotes on Monday, the smallest discount in more than one month.
First hit by the outbreak of novel coronavirus, China is now seeing increased dining out and traffic jams in Beijing, official figures show, while the dictatorship's postponed annual meeting of parliament is scheduled to begin on Friday.
Elsewhere in precious metals, silver prices jumped 4.6% to $17.41 per ounce on Monday – the highest since the beginning of March – to push the Gold/Silver ratio of the two formerly monetary precious metal down to 101, the lowest in two months.
It touched an all-time high of 127 in March.
Platinum also climbed 4.2% to $829 per ounce, the highest in 2 months.