Gold Price Stuck Around $1700 as Hedge Funds Cut Bullish Bets While Gold ETFs Continue to Grow to Record Levels on Second Wave of Coronavirus Infections
Monday, 5/11/2020 14:54
GOLD PRICES edge higher this Monday lunchtime with European stocks and crude oil down as new virus outbreaks highlight the challenges facing governments across the globe seeking to loosen social restrictions writes Atsuko Whitehouse.
Spot gold hovered around $1700 per ounce while the Dollar Index – a measure of the US currency's value versus its major peers – increased 0.3% and the yield on 10-year bonds edge higher.
"While investors with a long-term horizon have continued to buy bullion-backed ETF's, momentum and price sensitive leveraged funds have grown weary of golds inability to break away from $1700 per ounce," says derivatives platform Saxo Bank's commodity strategist Ole Hansen.
Latest data shows that hedge funds and other leveraged speculators in Comex gold futures and options cut their bullish betting on gold as a group in the week ending 5th May and increased their bearish betting.
Overall, that pushed the net long position of Managed Money traders to the smallest in 6 months.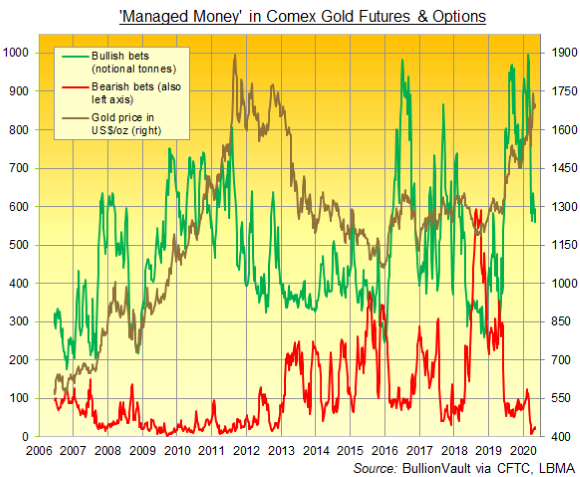 Speculators also cut their net bullish betting against silver by a quarter to the smallest in more than 10 months, according to the data published by US regulator the Commodities Futures Trading Commission (CFTC).
The gold-backed ETF trust funds expanded, as both the SPDR Gold Trust (NYSEArca: GLD) and the iShares gold ETF (NYSEArca: IAU) saw net investor inflows last week to make it 7 consecutive weekly gains.
GLD - the world's largest stock market-traded gold product – expanded to its largest level since April 2013, needing the backing of over 1,081 tonnes of bullion in total, while IAU – The cheaper gold-backed ETF competitor - grew again to a new all-time record, needing 428 tonnes.
Globally, gold-backed ETFs added 170 tonnes – net inflows of $9.3 billion (+5.1%) – in April, boosting holdings to a new all-time high of 3,355 tonnes, according to the
latest data
published by World Gold Council.
South Korea and China have reported fresh surges in coronavirus cases in the wake of both countries easing their lockdown measures. In Germany, new coronavirus infections are
accelerating
according to the Robert Koch Institute, only days after it loosened social restrictions.
The Stoxx Europe 600 Index reversed an earlier gain, while crude oil declined after both benchmarks notched up increases over the past two weeks.
In contrast, the MSCI Asia Pacific Index added 0.7% with indicators in the region buoyed by the Chinese central bank's pledge to roll out more stimulus to prop up the slowing economy.
Equities have been lifted in recent weeks by hopes that a measured restart in global economic activity could fuel a broad rebound. That hope has allowed investors to brush off some of most dire economic readings such as the US unemployment rate surging to post-war high of 14.7% last Friday.
"It's really around 23, 24% of people who are out of work today, and if this is a gradual recovery the way I think it's going to be, those folks are going to need more help," said Federal Reserve Bank of Minneapolis President Neel Kashkari on Sunday.
Staying in US, the White House is combating an outbreak of coronavirus after Vice President Mike Pence's press secretary Katie Miller tested positive for the virus. President Donald Trump
retweeted
renewed allegations concerning the virus outbreak in China after the US and Chinese diplomats agreed for communication and cooperation last Friday.
Gold prices for European investors edged up by 0.1% to €1571 per ounce while UK gold prices rose 0.8% to £1382 per ounce as the pound weakened after Prime Minister Boris Johnson announced a multi-stage easing of the UK lockdown on Sunday.
A more detailed plan will be unveiled by the UK government on how lockdown measures will be eased on Monday as Johnson's message caused confusion among experts, political pundits and other leaders.
Gold prices this Monday on the Shanghai Gold Exchange showed the smallest discount to London in a month. The discount moved to under $30 per ounce after wholesale bullion in the metal's No.1 consumer market last week recorded the lowest weekly average of $35.
Looking at other precious metals, silver prices edged higher by 0.3% to $15.51 per ounce while platinum rose 0.4% to $768.21 per ounce.