Gold Price Sinks 2.3% to Lowest Monthly Close in 7 as US Jobs Data Refute 'Balanced' Fed
Thursday, 4/30/2015 16:22
GOLD PRICES sank in London trade Thursday, erasing both this week's and this year's earlier gains as the Dollar rallied from new 8-week lows following yesterday's "no change" decision from the US Federal Reserve.
Bottoming just shy of $1.1250 per Euro on Thursday, the Dollar rose after mixed US data today showed personal incomes flat and spending down in Q1, while employment costs rose from the first 3 months of last year.
Last week's new claims for jobless benefits fell to a 15-year low, data from the Labor Department said.
Fixing at the LBMA Gold Price auction at $1180.25 – the lowest
afternoon gold benchmark
since 19 March – wholesale bullion recorded its lowest monthly finish in London since October's 4.5-year low at $1164.25 per ounce.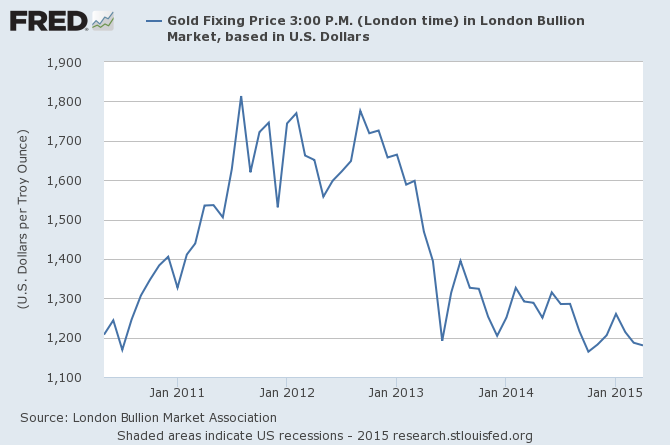 Priced in the
Euro gold
fell 3.1% for the day, more than halving its earlier 2015 rise of one-fifth to late January.
European stock markets whipped back into the red after climbing above unchanged.
New York's share indices all fell, with the tech-heavy Nasdaq dropping for the 4th day running, down 0.9% by mid-morning.
Silver extended the 2.3% drop in Dollar gold prices, losing 90 cents per ounce at one point – some 4.6% – before rallying above $16 per ounce to hold 1.8% higher from New Year.
The plunge in gold and silver prices pulled broad commodity indices lower, reversing earlier gains from crude oil, copper and other industrial inputs as US and major European government bond prices fell, pushing
10-year Treasury yields
up to 6-week highs at 2.10%.
Shares in gold-mining giant GoldCorp (NYSE:GG) meantime fell 6.5% after it followed fellow major producers Barrick (NYSE:ABX) and Yamana Gold (NYSE:AUY) in missing analyst forecasts with a net loss for Q1.
Noting the recent downturn in US economic data but ascribing Q1's sharp decline to just 0.2% GDP growth "in part [to] transitory factors", the Fed
yesterday repeated its focus
on jobs and inflation data, saying it will take a "balanced approach" to any rate rise from the current zero per cent and also repeating that rates will likely stay "below normal levels in the longer run."
"The Fed did not close the window on an interest rate hike in June," says precious metals analysis from French investment and bullion bank Natixis today, "but it now seems highly unlikely that it will happen."
Now seeing the first Fed hike "more likely in September," Natixis is raising its average 2015 gold price forecast from $1140 to $1160 per ounce.
"A contrarian consensus is developing in the gold market," said data providers and consultancy Thomson Reuters GFMS earlier this week – repeating its 2015 average forecast of $1170 per ounce – with higher US rates expected to "trigger higher gold prices [because] the market has already anticipated the rate increase."
Either way, "what we do know," GFMS went on, "is that as prices fall toward $1100 there is likely to be a growing demand side response that will help contain any falls" – together with "strong technical support around the $1130 and $1100 levels."