Gold Price Hits 4-Month Low as Hedge Funds Flip Bearish, Dollar Gains, Twitter 'Crushes Forecasts'
Tuesday, 4/23/2019 14:11
GOLD PRICES fell to 4-month lows in Dollar terms Tuesday in London, dropping below $1268 per ounce as the US currency extended its run of gains on the forex market.
European stock markets slipped on their first day back after the long Easter weekend, losing 0.2% by lunchtime.
Only London's FTSE100 index of mostly global corporations avoided a drop, adding 0.5% as the Pound held near its weakest value in 6 weeks on the FX market amid the re-start of cross-party talks on agreeing a Brexit plan.
"The conclusion of the Mueller investigation, which found no evidence of collusion between Russia and the Trump campaign...[has] removed a source of potential US political and economic uncertainty," says precious metals strategist Jonathan Butler at Japanese conglomerate Mitsubishi, pointing to the US Dollar's "near-2 year highs on the DXY measure."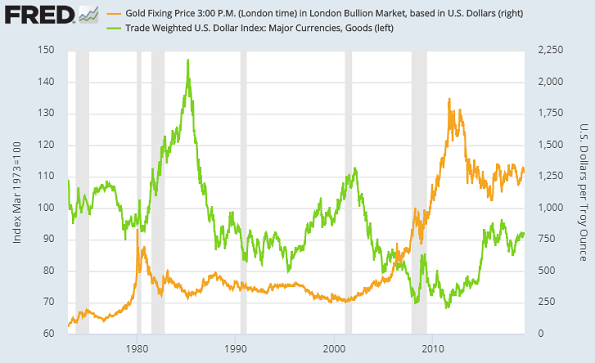 On its broad trade-weighted index against the world's other currencies, the Dollar last week held 4.5% below its 16.5-year high of late 2016, just after Donald Trump's White House victory.
The DXY's current level was a 12-year high when reached in April 2015. Since then, gold has averaged $1230 per ounce when the DYX has traded around this current level, ranging between $1080 and $1295.
"The strong Dollar and positive economic news may continue to weigh on gold and silver," reckons Butler at Mitsubishi, "especially if Q1's US GDP reading due out on Friday comes in stronger than expected."
Silver prices also fell to new 4-month lows in London trade Tuesday, dropping to $14.80 per ounce.
Both silver and gold saw hedge funds and other speculators in Comex futures and options hold more bearish than bullish bets as a group last week, extending the Managed Money category's net negative position on silver to a 3rd week and flipping net negative on the outlook for gold prices for the first time since early December.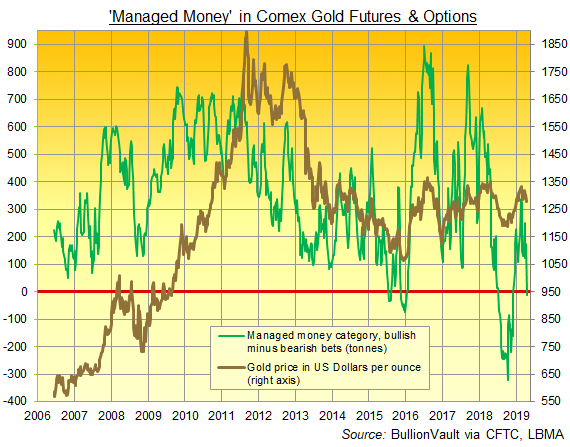 Amid the busiest week for first-quarter US corporate earnings reports, social-media platform Twitter (NYSE: TWTR) today
"crushed expectations"
according to CNBC's take, "sending the stock surging 6% in premarket trading."
Last night's close in New York priced TWTR's stock at 95 times those earnings per share.
"The best thing ever to happen to Twitter is Donald Trump." @MariaBartiromo So true, but they don't treat me well as a Republican. Very discriminatory, hard for people to sign on. Constantly taking people off list. Big complaints from many people. Different names-over 100 M.....

— Donald J. Trump (@realDonaldTrump) April 23, 2019
Wednesday will bring results from Facebook (Nasdaq: FB) and then Amazon (Nasdaq: AMZN) on Thursday.
The average Nasdaq 100 stock currently shows
a price/earnings ratio of 24
according to the
Wall Street Journal
. The broader S&P500 index closed Monday night just 0.7% below last September's all-time record high.
Oil prices meantime rose to new 6-month highs this morning after the Trump White House on Monday cancelled waivers from US sanctions against other nations importing crude from Iran, including major energy consumers China, India and Japan.