Gold Price Nears Record €1600 as EU 'Mothership' Signals Joint Corona-bonds
Thursday, 4/16/2020 14:15
GOLD PRICES set new all-time highs for Euro investors on Thursday, coming just €2.50 shy of €1600 per ounce as the European Union moved closer to issuing joint bonds for what its political head again called "a Marshall Plan" for the continent to recover from the sudden economic depression caused by the Coronavirus lockdowns.
"The European budget will be
the mothership of the recovery
," announced European Commission president Ursula Von der Leyen to the 27-nation parliament today, repeating a "heartfelt apology" to Italy for failing to assist it sooner – a statement called
an "important act of truth"
by Rome's foreign minister, former anti-EU 5-Star Movement politician Luigi Di Maio said Thursday.
With Italy now suffering over 21,000 deaths from Covid-19, Spain now reports over 19,000 but the real figure could be twice that, according to opposition politicians in Madrid, with
one estimate today saying
as many as 11,600 people may have died of the virus in care homes – uncounted in the official statistics.
"Finding the answers in this new world will require courage, trust and solidarity," said Von der Leyen.
"And it will need massive investment to jumpstart our economies," she told Brussels,
"There is only one instrument we have that is trusted...already in place and can deliver quickly...transparent and...time tested as an instrument for cohesion, convergence and investment.
"That instrument is the European budget."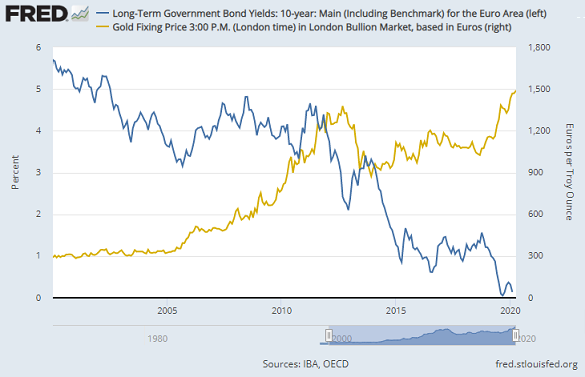 EU member states have already promised €3 trillion of stimulus, spending and emergency loans "to cushion the blow" from the pandemic shutdowns, says Bloomberg – a blow estimated by the IMF as a 7% drop in GDP for 2020.
"The bloc's finance ministers will [today] discuss a package of proposals including a €100bn employment insurance fund and credit lines of up to €240bn from the euro-area bailout fun," the newswire goes on.
"The contentious subject of joint debt issuance could also come up in the video conference."
Italy's debt prices rose after Von Der Leyen spoke, pushing its 10-year borrowing rate down more than 0.1 percentage points from Wednesday's 1-month high above 1.9% per annum.
German Bund prices fell in contrast, edging their negative yield – effectively a cost to new buyers – up to 0.42% per annum on Berlin's 10-year debt.
Gold priced in the Euro extended its gains for the week so far to 3.3%, peaking at €1597.49 per ounce as the single currency fell back towards March's 3-year lows on the FX market.
"Gold prices rose to their highest [Dollar] level in more than seven years as the spectre of a deepening global recession continues to support safe-haven buying," says a trading note from Swiss refining and finance group MKS Pamp.
"Spreads between futures and spot prices also remain wide, suggesting liquidity remains tight.
"The latest wave of buying was sparked by [last week's] announcement that the US Fed will invest up to $2.3trn in loans to aid small and medium sized business."
Dollar gold prices on Thursday traded $20 per ounce below Tuesday's peak at $1747, showing a 2.4% gain for the week so far as new data said the number of US citizens filing for jobless benefit payments again blew past analyst forecasts, taking the
4-week total above 22 million
.
Despite that news, Wall Street stock futures pointed higher ahead of Thursday's open as
European stock markets added 1.0%
for the day overall, nearing Tuesday's 1-month high but still trading 25% below mid-February's record high.