Gold Prices Extend Rebound as Biden's Stimulus 'Risks Inflation' Ahead of Key US Fed Meeting
Monday, 3/15/2021 13:33
GOLD PRICES rose on Monday morning as the US stimulus bill stoked inflation fears and new data said hedge funds just cut their bullish positions to the smallest in 22 months, writes Atsuko Whitehouse at BullionVault.
Spot gold prices increased 0.2% to $1730 per ounce, adding to last week's 1.7% gain. Gold however has declined 9% so far this year.
The Dollar Index – which tracks the greenback against a basket of six other currencies - edged up by 0.1%, increasing from Friday's one-week low.
The 10-year US Treasury note rallied in price, edging the yield it offers new buyers down from last week's one-year high of 1.63%, but that benchmark rate is still up around 70 basis points since the start of 2021.
The breakeven rate on 10-year notes, a measure of market expectations for annual consumer-price gains based on the yield gap to inflation-linked debt, topped 2.30% on Friday, a level it has not breached since early 2014.
"While the roll out of COVID-19 vaccines has seen diminishing investor interest for the traditional haven, Biden's economic package could give a huge tailwind to gold in the long term," Commerzbank AG analyst Carsten Fritsch said.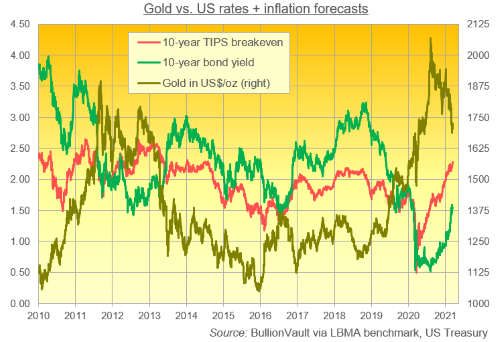 Over the half-decade from 2011 to 2016, the price of gold in US Dollars went in the opposite direction to 10-year TIPS yields in 34 out of 60 months. That was some 56.7% of the time, according to BullionVault
research
.
"The Biden administration's additional $1.9 trillion economic stimulus package has also passed the House of Representatives and is now officially in place, providing support for gold as the budget deficit widens and inflation concerns increase," says the latest report by bullion-bank ICBC Standard's former Tokyo manager Bruce Ikemizu, now chief director of the Japan Bullion Market Association.
"Is there a risk of inflation? I think there is a small risk and I think it is manageable", said Treasury Secretary Janet Yellen on an ABC interview on Sunday in the United States.
"And if it materializes, we'll certainly monitor for it, but we have tools to address it," continued Yellen, a former Federal Reserve chair.
Investors are now awaiting the outcome of the US Federal Reserve meeting due to take place this Tuesday and Wednesday. That will be followed by the Bank of England on Thursday and the Bank of Japan meeting on this Friday.
Latest data shows that hedge funds and other leveraged speculators in Comex gold futures and options cut their bullish betting 6 weeks in a row to the smallest since April 2019 on gold as a group in the week ending 9th March and increased their bearish betting to the biggest in May 2019.
Overall, that pushed the net long position of Managed Money traders to the smallest in 21 months.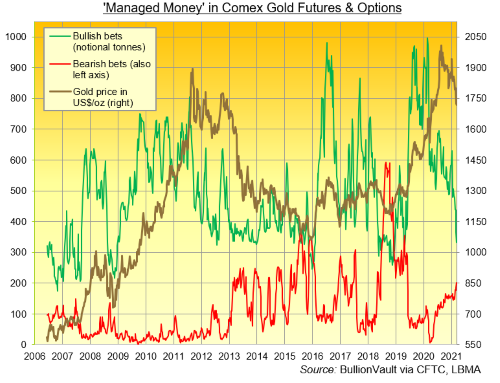 Meanwhile, brent crude oil topped $69 per barrel this Monday morning after data on China's factory and retail sector activity in the first two months of 2021 surged to beat expectations, according to data published by the National Bureau of Statistics.
Prices for silver, primarily an industrial metal, also rose 1% to $26.20 per ounce Monday morning, extending last week's 2.8% rise and reducing its year-to-date decline to 1.7%.
Platinum, which finds two-thirds of its demand from industrial uses, climbed 1.1% to $1221 per ounce, adding to the 6.8% gain from last week and making a 14.2% increase for the year so far.
2020 saw platinum supply hit a record deficit against demand of 1 million ounces, the mining-backed World Platinum Investment Council said in its latest data report
published
last Thursday.
Over in the stock market, the Stoxx 600 Index climbed to the highest level in a year Monday morning, amid Germany's ruling Christian Democrats (CDU) suffered stinging defeats in two state elections on Sunday.
The slump in the CDU vote comes amid Merkel's federal government faced
discontent
over the slow pace of the coronavirus vaccine rollout and a mask procurement scandal.
Opinion polls show the CDU's national popularity slipping from 40% last June, when Germany was being praised for its initial response to the coronavirus pandemic, to about 33% this month.
The Netherlands today became the latest country to suspend use of the Oxford-AstraZeneca coronavirus vaccine over concerns about possible side effects.
Seven countries, including Ireland, Norway, Denmark, Bulgaria, Iceland, and the Democratic Republic of Congo have so far fully suspended the AstraZeneca vaccinations.
The World Health Organization and the European Medicines Agency say there is no indication of a link between the
vaccine
and reports of blood clots.