Gold Price Tumbles Below $1300 as China Industrial Growth Hits 17-Year Low, UK 2nd Ref Vote 'Infuriates Brexiters'
Thursday, 3/14/2019 14:18
GOLD PRICES fell back against all major currencies on Thursday, dropping through $1300 per ounce as the US Dollar rallied following mixed economic data from China.
European stock markets meantime rose as the UK Parliament prepared to vote for the third day running on how or whether the world's 5th largest economy will exit the European Union as scheduled on 29 March.
From yesterday's 2-week highs gold dropped over 1.3% in US Dollar terms, erasing the week's earlier gains to trade below $1295.
Euro gold prices meantime halved last week's 1.5% gain to trade at €1145, and
the UK gold price in Pounds per ounce
erased last week's 1.8% gain for British investors entirely, dipping below £975 – near its cheapest price of 2019 so far – as the Speaker of the House of Commons selected the Brexit motions Parliament will vote on later today, rejecting a call by so-called 'Brexiter' politicians to block a second referendum on the issue after lawmakers blocked a 'No Deal Brexit' in last night's voting.
Amendments:
H: PM to request Extension A50 & hold sec ref.
I: (Benn) Extend A50 to find a way forward with maj support, taking control of parliamentary time on 20th March
E: Labour Extend A50 to avoid leaving without deal
J: Bryant Prevent MV3
B: Rule out ref NOT SELECTED

— Beth Rigby (@BethRigby) March 14, 2019
Beijing's official data agency said overnight that industrial production in China – the world's No.2 economy and gold's No.1 consumer nation – slowed to 5.3% annual growth in January, its
weakest expansion in 17 years
.
Private sector fixed-asset investment slowed to 7.5% growth from end-2018's pace of 8.7%, but retail sales were ahead of analyst forecasts.
Bloomberg reports that a summit to resolve the US-China trade dispute – and avoid the heavy tariffs threatened by both sides – will likely be delayed from this month, with Presidents Trump and Xi meeting in April instead.
US and other major government bond prices meantime ticked lower, edging long-term interest rates higher and taking 10-year US Treasury yields up to 2.62%.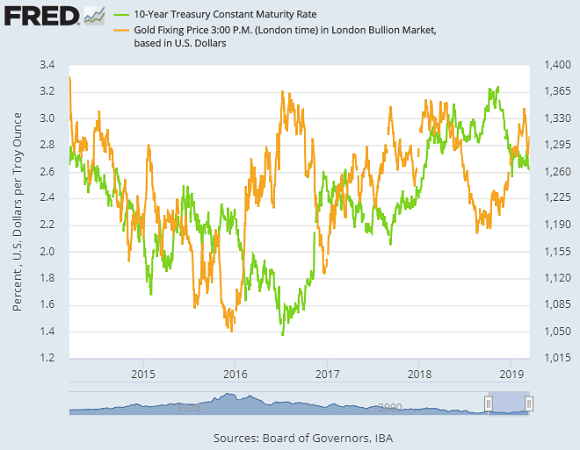 Back in London, and with Theresa May set to put her EU withdrawal agreement before Parliament for a third time next week, "Brexiteers FURIOUS as
Bercow REFUSES key vote
to rule out second referendum," says long-time anti-EU newspaper
The Express
online.
"My Administration," tweeted Trump today, "looks forward to negotiating a large scale Trade Deal with the United Kingdom. The potential is unlimited!"
Trump's vice-president Mike Pence meantime told Ireland's premier Leo Varadkar that Washington "stands with the Irish Republic" as the open-ended 'Irish backstop' – aimed at avoiding the return of border controls between Eire and the UK province of Ulster – remains the key objection from UK politicians to British Prime Minister May's withdrawal agreement with the EU.
A retired British serviceman known only as 'Soldier F'
will face murder charges
over the Bloody Sunday violence of 1972, "one of the darkest days of the Northern Ireland Troubles" says the BBC.
Speaking of a possible cliff-edge Brexit by default if the UK cannot agree a deal or get EU approval to delay beyond 29 March, "I think," said European Parliament Vice-President and Irish MEP Mairead McGuinness today, "that some who had expected this never to happen because 'surely we will resolve it with diplomacy and dialogue' are now beginning to say that a hard Brexit is inevitable with all of the nasty consequences."