UK Gold Price Jumps 2.3% as May's Brexit Deal Set for Final Defeat
Tuesday, 3/12/2019 14:00
GOLD PRICES edged higher against all major currencies and shot back near £1000 per ounce for UK investors on Tuesday as the British Government prepared to lose another and most likely final Parliamentary vote on Prime Minister Theresa May's proposed Brexit deal with the European Union.
With the vote scheduled for 7pm London time tonight, the British Government's own senior legal advisor – the Attorney General Geoffrey Cox MP – said the new concessions offered by Brussels on the so-called Irish backstop issue leave the legal risk of the UK staying
tied to EU rules "unchanged"
.
The UK police said today that someone using a recognized codeword and claiming to represent illegal united-Ireland terrorist group the IRA said it
posted parcel bombs
sent to Heathrow Airport and 3 other locations last week, none of which detonated.
In Europe only the UK and Republic of Ireland stock markets avoided a drop, with London ticking just 0.1% higher as the British Pound suffered its sharpest 1-day plunge since 2nd January, making UK-listed assets cheaper.
The
UK gold price in Pounds per ounce
shot more than 2.3% higher from its overnight low, touching £996 as Sterling sank almost 3 cents below mid-February's 7-month high of $1.32891 on the FX market.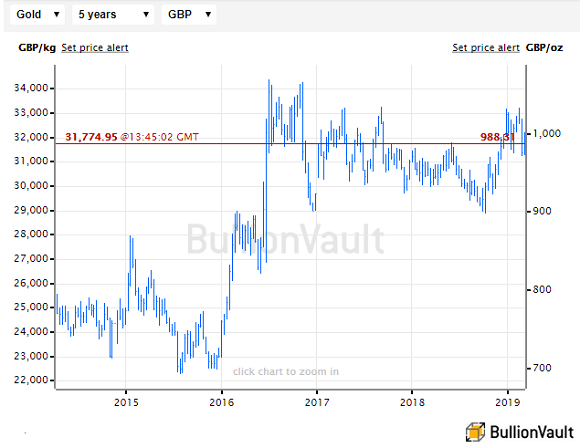 Despite the political, economic and mass media uncertainty over Brexit, European Union-listed gold ETFs as a group – including UK funds – expanded to need only 1.4 tonnes extra backing in February at 839.6 tonnes according to data compiled by the mining-industry backed World Gold Council.
The world's largest such fund, the SPDR Gold Trust (NYSEArca:GLD), yesterday saw its first day of expansion since gold prices hit 10-month highs 3 weeks ago in late February.
But now needing 769.5 tonnes of bullion backing for its shares in issue, the GLD is now no larger with gold at $1295 than it was at $1190 last August.
The GLD's four largest North American competitors have also shrunk so far in March, leaving the continent's top 5 gold-backed ETFs needing 1,180 tonnes of bullion – almost 7% less than their 10-year average.
Dollar gold prices, in contrast, stood Tuesday less than 0.9% below their month-end average since 2009.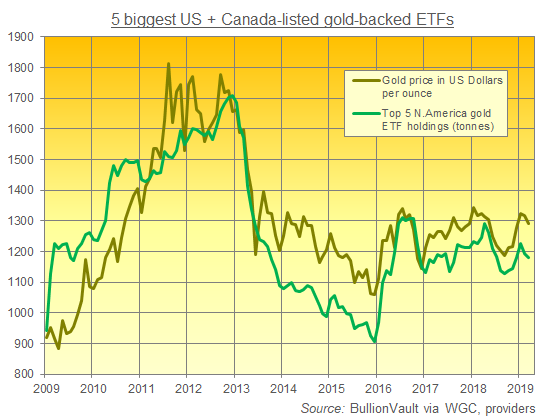 Gold prices in China extended their strong run above comparable London quotes overnight, stretching the Shanghai premium to $15.50 per ounce.
That's greater by more than two-thirds from the typical incentive for new bullion imports into gold's No.1 mining, importing and consumer nation.
"The country's central bank, the People's Bank of China, has bought about 32 tonnes of gold in the past three months," says the Financial Times, quoting data from Asian-focused bank Standard Chartered.
"If it
keeps purchasing at that rate
, China would surpass Russia and Kazakhstan, leading buyers in 2018, which have tapered their acquisitions recently."
"Following the multi-decade high in gold reserves growth in 2018," says World Gold Council director of market intelligence Alistair Hewitt, "central banks' appetite remained healthy at the start of 2019."
Central-bank gold reserves have also come under increasing scrutiny by politicians so far in 2019, with ruling parties in both Italy and
Romania seeking to "use" national bullion
to ease their budget deficits – a move apparently deemed illegal by the European Union treaty.
UK industrial output data meantime came in stronger but its trade deficit was worse than analysts forecast on Tuesday morning.
US consumer-price inflation disappointed Wall Street, with the headline rate slipping to 1.5% and the 'core' cost of living (excluding fuel and food) slowing to 2.1% annual growth.
Major government bond yields fell except for France, Spain, Portugal and Greece according to Bloomberg data.