Gold Prices Firm, China Discount Widens as Stock Markets Fall Despite Big Central-Bank and Fiscal 'Response' to Virus
Wednesday, 3/11/2020 14:35
GOLD PRICES rose $5 below last week's 7-year closing high in US Dollar terms Wednesday before slipping back $10 per ounce to $1660 as world stock markets fell again despite a raft of emergency monetary and fiscal measures to try stopping the coronavirus crisis leading to economic recession.
With the Bank of England following the US Fed and other major centrals banks to slashes borrowing rates in an
unprecedented 7am move
this morning, the UK government's first post-Brexit Budget was dominated by tax delays and state aid for people and businesses hit by the illness.
Prime Minister Giuseppe Conte of Italy – the worst-hit country outside China, and now into Day 2 of a national shutdown, with fines and 3 months in jail facing quarantine breakers – said he's setting aside €25 billion to cope with the emergency.
"The virus is in Europe, the population has no immunity and no therapy exists," she said, adding that she is "open" to the idea of scrapping Germany's "black zero" rule banning any new government borrowing amid this "extraordinary situation".
Berlin's 10-year borrowing cost today edged up to minus 0.74%, locking in a loss of capital for would-be Bund buyers.
Rising 2.3% this morning, the
EuroStoxx 600 index
slipped into red for the day as New York fell hard at the open, with the S&P500 trading over 15% below its level of this time last month.
Gold priced in the Euro meantime moved sideways, trading 1.1% below last week's finish – and 6.1% below late-February's record high – at €1465 per ounce.
With Asian stock markets closing Wednesday lower across the board, gold in Shanghai fixed some $9.25 per ounce below comparable London quotes.
That discount contrasts with an average premium over the last 15 years of nearly $6 per ounce, according to data published by the mining industry's World Gold Council – effectively an incentive for new bullion imports into the metal's No.1 mining, import and household consumer market.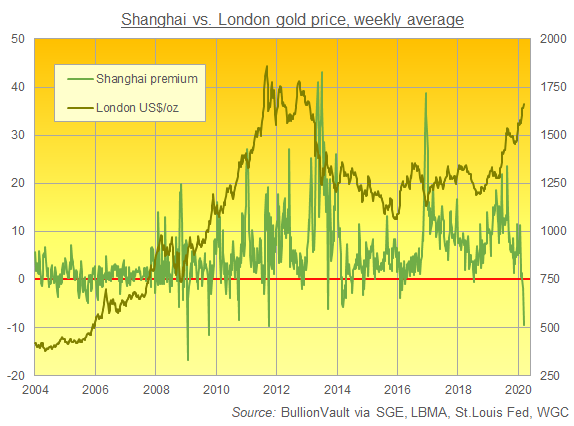 Holding again at stronger than the 7-per-Dollar level, China's currency the Yuan could struggle if the world No.2 economy sees exports drop, dragging it into a current account deficit with the rest of the world and potentially forcing mass debt defaults by Chinese corporations unable to refinance their share of the country's $2 trillion outstanding Dollar-denominated borrowing, says the South China Morning Post.
"Although Covid-19 seems to be largely under control in China now, the wider global spread of the disease elsewhere could still have secondary effects on China's economy," the
SCMP quotes
Chang Li, analyst at S&P Ratings.
"The outbreak could pose a challenge to the cash flow and liquidity [of Chinese firms] at least in the first half of this year."
Ahead of Thursday's European Central Bank decision on negative rates and QE, "Europe will see a scenario that will remind many of us of the 2008 Great Financial Crisis unless there is co-ordinated fiscal action," ECB chief Christine Lagarde apparently told Germany's Merkel and other European Union leaders on a conference call overnight.
Berlin today banned all events with more than 1,000 participants, but German Health Minister Jens Spahn said closing all of the country's borders "won't work" to stem the spread of Covid-19.
"You should
have no regrets about acting
quickly," says would-be Mayor of London Rory Stewart, a loser to UK Prime Minister Boris Johnson in last year's Conservative Party leadership contest.
"Of course there are going to be significant economic costs, but better to take [them] immediately...The experience round the world is, the more aggressive you are the better you do."
UK gold prices in Pounds per ounce today
held unchanged at £1280 as UK health minister Nadine Dorries was today confirmed as a case of Covid-19, six days after first feeling unwell but still attending a reception with more than 100 guests hosted by Johnson at No.10 Downing Street.
Gold No.2 consumer market India meantime reported just 60 confirmed cases in total, holding a flight from Milan in an isolation bay at New Delhi's IGIA while the northern border region of Jammua closed all cinemas until the end of March.
North-eastern state Mizoram said it has enough essential commodities for at least 3 months as panic-shopping followed rumors the borders with neighboring Myanmar and Bangladesh will be shut.