Gold Price 'Tests Key Support' as Asian Consumer Demand Jumps on ETF Sell-Off
Monday, 3/08/2021 14:43
GOLD PRICES erased an early gain but held onto what analysts called a key support level Monday lunch time in London as the Dollar strengthened and bond yields held at their highest in a year high after the US Senate passed new President Joe Biden's $1.9 trillion stimulus bill, writes Atsuko Whitehouse at BullionVault.
The Dollar Index – a measure of the US currency's value versus its major peers on the forex market – advanced for the 4th consecutive session to its strongest so far in 2021.
The yield on the benchmark 10-year US Treasury yield climbed to 1.617%, the highest since February 2020 Monday morning.
"Gold has despite a stronger USD and higher real yields
managed to bounce from key support
at $1688," said derivatives platform Saxo Bank's commodity strategist Ole Hansen.
"The recent rise in interest rates and the strength of the Dollar have made for a difficult environment for gold," agrees bullion-bank ICBC Standard's former Tokyo manager Bruce Ikemizu, now chief director of the
Japan Bullion Market Association
.
"But it has nevertheless been surprisingly well supported below $1700 over the past week.
"This is partly because real demand buying in Asia is picking up as India, China and South East Asia are seeing the first real buying interest in gold kilobars in over a year," Ikemizu added.
Sales of all jewelry categories during last month's Chinese New Year holiday
soared by 161% year on year
, according to the latest report by the mining industry's World Gold Council, and household demand for gold in all forms – whether jewelry, bars or coins – rose by more than 80% year on year.
Gold prices on the Shanghai Gold Exchange today continued to trade above equivalent prices in London, offering a $10 per ounce premium over the metal's key trading and storage hub.
That extended last week's average of $9 – the strongest incentive for new bullion imports to China, gold's No.1 consumer nation, in more than 17 months.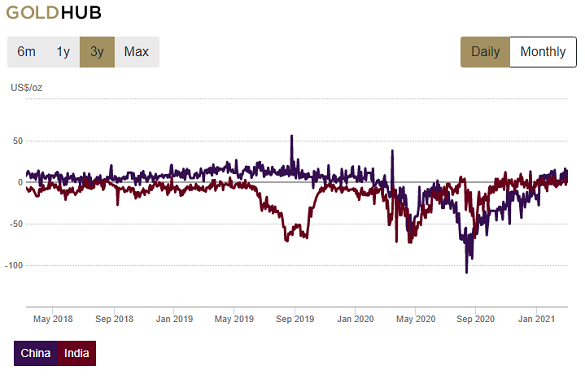 Gold in India – the precious metal's No.2 consumer nation – also traded at a premium to London quotes, offering an incentive of $5 per ounce last week as the global gold price in Rupee terms dropped to 44,217 Rupees per 10 grams, its lowest in 11 months.
"Demand has
significantly improved
in the past few days. Retail buyers are making purchases, especially for weddings," Reutes quotes Mangesh Devi, a jeweller in western state Maharashtra's Satara.
The upcoming Hindu wedding season will coincide with the spring festival of Akshaya Tritiya, an increasingly popular time to buy gold.
Gold bullion imports into India
jumped 41% in February
from a year earlier, reaching the highest in 15 months according to Bloomberg.
But while Asian consumer demand has returned from the 2020 Covid collapse, "It remains to be seen how much Asian demand will support the market as investors sell out of gold ETFs due to high interest rates and a strong Dollar," says Ikemizu at the JBMA.
Gold-backed ETF trust funds
continued to liquidate Friday, with the SPDR Gold Trust (NYSEArca: GLD) and the iShares gold ETF (NYSEArca: IAU) recording their 8th and 7th consecutive weekly liquidations respectively.
Oil prices in contrast climbed above $70 per barrel Monday morning, the highest since the Covid-19 pandemic began, after last week's Opec+ agreement to cap output was followed first by the US White House winning Senate approval on Saturday of President Biden's $1.9 trillion stimulus package and then by attacks on Saudi Arabian oil facilities by Yemen's Houthi forces on Sunday.
Prices for silver, the more industrial precious metal, edged lower 0.1% to $25.20 per ounce after dropping 5.4% last week.
Platinum, which finds two-thirds of its demand from industrial uses now including the
production of green hydrogen
, rose 0.2% to $1133 per ounce, following 5.2% decline during the previous week.