Gold Price 'Targets $1611' as Covid-19, Negative Euro Yields Drive Investing
Tuesday, 2/18/2020 14:03
NEW SEVEN-YEAR records in the Dollar gold price were forecast by analysts and traders in London's bullion market on Tuesday as the metal's price in Euro terms set fresh all-time highs amid a drop in world stock markets led by tech giant Apple scrapping its revenue guidance because of the worsening coronavirus outbreak in China.
With GDP growth in the world No.2 national economy already slowing to
a 3-decade low of 6.1% in 2019
, this year's official target "
will definitely [see] adjustments
" according to politburo advisor Zhang Yansheng, as Beijing enforces quarantines and lockdowns against covid-19 to keep businesses shut long after the usual Chinese New Year re-start.
The world's most valuable company outside state-owned oil giant Saudi Aramco, Apple (NYSE: AAPL) last night said it
won't meet the near-9% annual growth
forecast for the current calendar quarter just 3 weeks ago thanks to "temporarily constrained" supply from key suppliers in China, plus the closure of all its stores and many partner outlets in the country, source of nearly one-seventh of Apple's revenues.
Shares in global banking giant HSBC (LON: HSBCA) meantime sank over 6% after reporting a 75% drop in pre-tax profits for 2019 from the year before.
"[But] in order to justify a gold price significantly above $1600 in 2020, there would need to be a significant worsening in the political and economic outlook."
Priced in the Dollar, several analysts today said gold's rise to $1591 broke "resistance" around $1585-88 and forecast would leave January's spike to $1611 as the next point of technical resistance on their charts.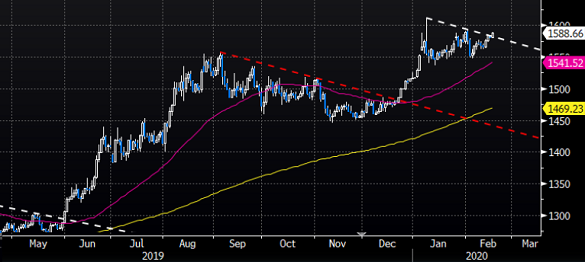 Economic sentiment across the 19-nation Euro currency union – the world's
2nd largest economic bloc
– has sunk in February, the
ZEW survey said Tuesday
, badly missing analyst expectations amid a sharply worse situation reported by German respondents.
With investors seeking safety, German 10-year yields today fell to -0.42% as Bund prices rose, the lowest in a month but still well above the record negative lows of late-summer 2019.
"The correlation between gold in Euros and Euro bond yields is striking," says a trading note from one London market-making bank today, as bullion prices hit fresh all-time records at €1473 per ounce.
"[That's] pushing commentators to chase for even lower medium-term yields in Europe," the note goes on, highlighting a chart from Bloomberg and contrasting the path of gold in Euros with where Eurozone yields currently trade.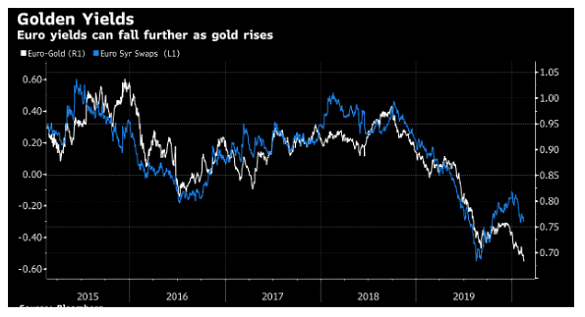 In contrast to Western investment fund flows however, "India physical demand is dire," says another trader, noting how gold imports into the metal's No.2 consumer nation
fell by nearly one-fifth in January
from the same month last year as "jewelry purchases [are] hit by record high gold prices locally."
Silver prices
also followed gold higher on Tuesday, touching 2-week highs just shy of $18 per ounce as platinum rose to $980 – an 18-month high when reached last September.