Gold Price Slips, GLD Loses 2/3rd of Jan's Inflow as Dollar 'Stays Bullish' Amid US-China Tensions
Monday, 2/11/2019 14:33
GOLD PRICES declined Monday ahead of new round of US-China trade talks, while a return of the US government shutdown loomed after talks over President Trump's border-wall with Mexico broke down in Washington, writes Atsuko Whitehouse at BullionVault.
Spot gold prices lost 0.7% to trade at $1307 per ounce Monday lunchtime in London, slipping less for non-Dollar investors as the US currency rose on the FX market.
The US Dollar Index (DXY) extended its run to six consecutive days of gains, standing near clinching fresh multi-week tops.
In contrast the world's largest
gold-backed ETF product
– the SPDR Gold Trust (NYSEArca:GLD) – has now seen outflows of investor cash for six straight sessions.
Shrinking all through February so far, the GLD needs almost 22 tonnes fewer to back the value of its exchange-traded trust fund shares, reversing two-thirds of January's entire inflow – the strongest monthly rise since September 2017.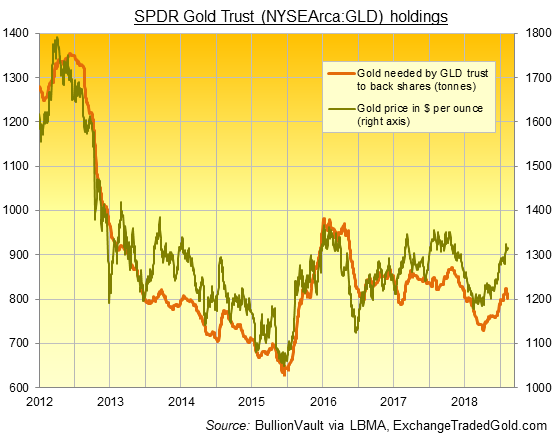 "The market may have been quick to turn its back on the Dollar, but we are not for turning and we
remain Dollar bullish
," say analysts at Asian retail and London bullion bank HSBC, arguing for "safety" assets as the picture for global growth is softening.
New data Monday said the UK – the world's 5th largest national economy –
grew just 1.4% in 2018
, its slowest since the global crash of 2009.
With less than 7 weeks now remaining until Brexit, key numbers in today's release all pointed down year-on-year, including business investment, construction, manufacturing, and the UK's trade balance.
"However, health sector, management consultants and I.T.
all doing well
," said the UK's official data agency.
Talks today re-start in Beijing to try and find a new deal between Presidents Trump and Xi to avert a return of the US-China trade war, set to see huge tariffs imposed on each other's exports when the current "ceasefire" ends 1st March.
Beijing's foreign ministry separately demanded today that the US "
immediately stop
its provocative actions" after the two US guided-missile destroyers conducted what Washington called "freedom of navigation" exercises near
islands claimed by China
in the disputed South China Sea.
Back in Washington, talks between congressional Republicans and Democrats aimed at averting another US government shutdown
broke down again
at the weekend over Trump's demand to fund a wall along the US border with Mexico.
Current funding agreed for the Department of Homeland Security and other federal agencies expires this Friday.
I don't think the Dems on the Border Committee are being allowed by their leaders to make a deal. They are offering very little money for the desperately needed Border Wall & now, out of the blue, want a cap on convicted violent felons to be held in detention!

— Donald J. Trump (@realDonaldTrump) February 10, 2019
Over in Europe, gold prices for European investors slipped 0.6% from last Friday's new 22-month high at €1162 as shares across the single-currency zone rallied following smaller than expected action in France from gilets jaunes protesters in the weekend's Act 13 of demonstrations against President Macron.
The UK gold price in Pounds per ounce held firmer at £1013 as Sterling extended its decline following Monday's weak GDP figures.
To break the UK Parliament's deadlock over approving or rejecting the European Union's formal Brexit deal, Prime Minister Theresa May at the weekend
accepted the offer of more talks
with opposition leader Jeremy Corbyn.
But "there is no hope of her agreeing" to the detail of Corbyn's requests, according to one Labour MP, with a senior member of May's Cabinet calling them "a dangerous delusion".