FX Action Sees Gold Price Diverge in Dollars, Euro and Pounds as Inflation 'Guaranteed' to Fall
Thursday, 2/09/2023 13:55
CURRENCY CROSSES led changes in gold bullion prices on Thursday, with gold rising in Dollar terms, steadying in Euros, but slipping back in UK Pounds.
Reaching $1881 per ounce – an 8-month high in US Dollar terms when reached in early January, and some $20 above Monday morning's low – gold bullion for London settlement traded 4.0% beneath last Thursday's spike near $1960 following the Federal Reserve's widely-expected 1/4-point rise to US interest rates.
But with the Dollar slipped on the FX market, Euro gold prices meantime held flat around €1747 per ounce, matching the precious metal's then-record high of summer 2020's first-wave Covid Crisis but still 8.1% below last March's fresh all-time spot market high of €1902,
reached after Russia began
its on-going invasion of Ukraine.
In contrast, and with Sterling rising sharply on the forex market, the British Pound gold price today fell by 0.6%, dropping £10 to £1546 after officials from the Bank of England assured lawmakers in Parliament that inflation running at 4 decades highs is
"almost guaranteed" to fall
sharply in 2023 from its current double-digit pace.
"I do think we have turned the corner," said BoE Governor Andrew Bailey to MPs on the Treasury Select Committee, pointing to the "
powerful downward forces
on inflation" due primarily from the year-on-year drop in energy prices following last winter's Russia-Ukraine surge.
However, and having hiked the Bank's key interest rate by 0.5 percentage points only a week ago, Bailey was quick to add that he is "still concerned about inflation persistence."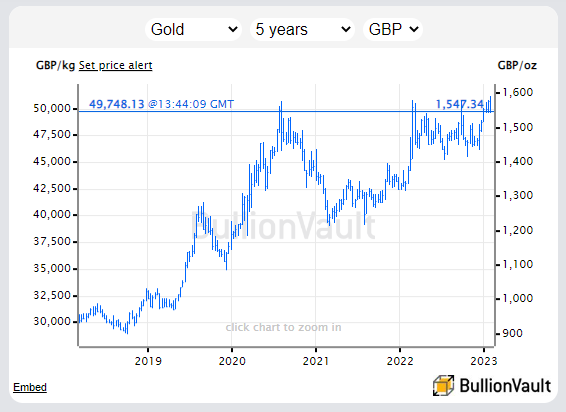 Besides forecasting a retreat in the Dollar's exchange-rate value later in 2023, "we think it will become apparent that inflation is falling more quickly than many appreciate, with supply chain squeezes continuing to ease," says analyst Kieran Tompkins at consultancy Capital Economics in
this year's LBMA Forecast Survey
competition, predicting a 3.9% rise in gold's annual average price to $1870.
Closer still to the
Survey's consensus outlook
of $1860, "Expectations of a recession, still high inflation and a slowing in the pace of monetary policy tightening by the Fed are projected to provide support to gold prices during the year," says Rohit Savant of New York consultancy CPM Group, who came within $10 of the 2022 annual average outcome of $1800.
"The greatest strength in prices is likely to occur during the fourth quarter of the year...as central banks prepare to potentially reverse policy, if warranted by economic conditions."
Premiums for gold landed in Shanghai, over and above London quotes, today rose above $15 per ounce – almost twice the typical incentive for new imports into the precious metal's No.1 consumer nation – as both the Yuan price of gold and the Yuan/Dollar exchange rate rallied from yesterday's 1-month lows.
"Price action and trading-desk anecdotes
denote large buying
from China's official sector," says strategist Paul Wong at commodities investment and asset management firm Sprott, looking at January's strong gains in gold.
"[That demand] possibly [came from] any combination of People's Bank of China, central bank-related entities or state banks."
After reporting
30-tonnes additions
for each of November and December – the first since such statement since 2018 – the People's Bank added another 15 tonnes of gold to its bullion reserves in January according to new
data published Tuesday
.
Rising bond prices saw longer-term Western borrowing costs meantime ease back Thursday from the increase following last week's US Fed, Eurozone and UK BoE rate rises, with 10-year US Treasury yields back down nearly 10 basis points to 3.58% from Tuesday's spike to 1-month highs.
Global stock markets also gained with bond prices, but commodities slipped – led by crude oil easing back from 1-week highs after data on US stockpiles from
the EIA contradicted figures
from the API, showing a strong build in available inventories.