Gold Prices Rally as Stocks Hit New Records, Inflation Forecasts Rise, Next Stimmy Checks 'Due by End-Month'
Monday, 2/08/2021 13:38
GOLD PRICES rallied Monday morning as global stock markets hit fresh all-time highs after US politicians moved to approve new President Joe Biden's huge Covid pandemic stimulus package, and inflation expectations accelerated to a new 7-year record, writes Atsuko Whitehouse at BullionVault.
The spot gold price for London settlement edged 0.4% higher to $1821 per ounce after falling 1.9% last week against the US Dollar.
With the Dollar rising again Monday to new 2-month highs on the FX market, US Treasury bond prices fell, driving 10-year yields as high as 1.20% per annum, the highest rate of interest since last March's Covid Crisis.
The 10-year breakeven rate – the difference in yields between the conventional 10-year Treasury bond and its inflation-protected version – touched 2.21%, extending its run of the
highest inflation expectations since 2014
.
That took the real interest rate offered to buyers of 10-year Treasury debt back down to -1.01%, a multi-decade low when reached as gold prices surged to fresh record highs last summer.
"Gold is caught between conflicting macroeconomic drivers amid a weak physical market," says Suki Cooper, director of precious metals research at Asian bank and London bullion market maker Standard Chartered, in her 2021 price forecast.
"However" says Cooper, explaining her analysis in
the LBMA's new 2021 Forecast competition
, "we believe investors will continue to allocate into gold given our expectations for the US Dollar to weaken further, real yields to remain negative, accommodative monetary policy, and further fiscal stimulus and rising inflation."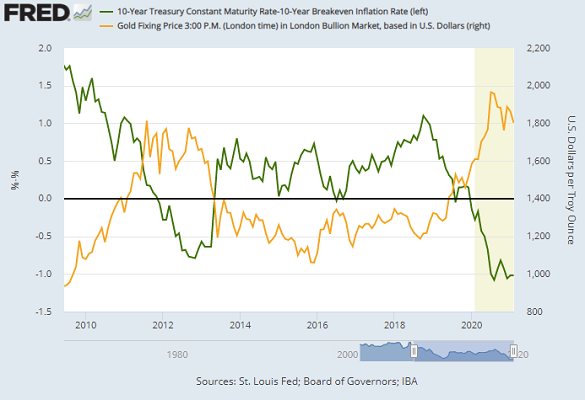 Friday saw both the US Senate and House pass budget resolutions that should enable Biden's $1.9 trillion spending plans to get through the Democrat-held Senate with a simple majority.
"If we don't provide additional support, the unemployment rate is going to stay elevated for years to come," warned former US Fed chair and now Biden's Treasury Secretary
Janet Yellen on Sunday
.
Across the pond, the same sentiment came Sunday from Christine Lagarde, president of the European Central Bank, warning the 19-nation currency union's political leaders to avoid repeating the "austerity" that followed the global financial crisis but instead remove fiscal and monetary stimulus "gradually".
"We will act for as long as the pandemic is causing a crisis situation in the Euro area,"
Lagarde vowed of the ECB
's own negative 0.5% interest rates and €1.85 trillion QE bond buying program ($2.25trn).
GDP decreased by 0.7% in the Euro area in the fourth quarter of 2020, falling 6.8% for the full year
according to Eurostat
.
Global stock markets meantime rose to a new record on MSCI's index, following the US Nasdaq and S&P500's fresh all-time highs from Friday, reached after weaker-than-expected US job data.
A third round of stimulus checks should now reach eligible US adults "before the end of February" reckons House Speaker Nancy Pelosi,
paying $1,400 each
.
Talk of extra stimulus, faster economic recovery and also output cuts from producer-cartel OPEC+ today took crude oil prices to the highest level in a year, with European benchmark Brent up more than 1% by lunchtime in London at $60 per barrel.
Prices for silver
, which finds nearly 60% of its annual demand from industrial uses, rose 0.6% to $27.12 per ounce after giving back all of last Monday's jump to $30 – a sudden 8-year high – on the call for a 'short-squeeze' on social media.
Platinum, which finds two-thirds of its
demand from industrial uses
led by auto-catalysts and also increasingly green energy, today climbed 2.8% to $1159 per ounce, its highest since August 2016.